Art Faculty - Violet Luczak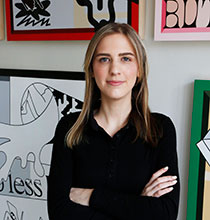 Violet Luczak specializes in the multi-disciplinary conjuncture of traditional design and painting. Her practice focuses on critiquing individualism and imperialism through a surrealist and feminist lens. Luczak also integrates education into her practice, teaching design courses and opening a dialogue with the public about social activism through exhibitions and public talks.
Based in Chicago, Violet Luczak holds her MFA from Cranbrook Academy of Art (2020) and her BA from Elmhurst University (2017). Luczak is a current Chicago Art Department Resident and was previously a 2020 Talking Dolls Resident in Detroit, Michigan. She has been published in New American Paintings, No. 147 MFA Annual Issue, Young Space and It's Nice That. Luczak recently debuted her first solo show, An Udder Disaster, at Talking Dolls in Detroit, Michigan, and is represented by PLAYGROUND DETROIT. 
Violet will be teaching Graphic Design I and II, Color Theory, Digital Drawing, Typography, Computer Art, and Portfolio Design.
Upcoming: Continuous Span, Hyde Park Art Center
Violet Luczak's Work