Art Faculty - Trevor Power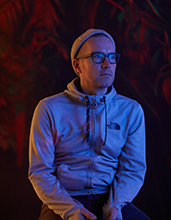 (815) 455-8785
tpower@mchenry.edu
Art Gallery Curator Trevor Power has worked in fine art since he graduated from Columbia College Chicago in 2002 with his bachelor of fine arts in photography.
Trevor began his career working in commercial photography but left to manage FLATFILEgalleries in Chicago, a gallery that represented artists working across all media, including sculpture, installation, fabric, and performance art.
When the owner of FLATFILEgalleries decided to close its doors, Trevor found a new home managing Catherine Edelman Gallery, the premier photography gallery in Chicago. Trevor worked for years with artists like Joel-Peter Witkin, Shana and Robert ParkeHarrison, and Terry Evans.
Trevor then spent almost a decade working in editorial and commercial photography before returning to fine art in his role at MCC.