Art Faculty - Timothy King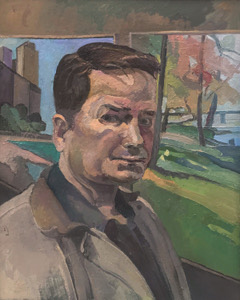 (815) 479-7566
tking950@mchenry.edu
I have been a professional graphic designer and art director for 40 years. I've worked in corporate and government communications, training, and, consumer/business-to-business advertising and marketing. The history of my work in design encompasses: Government Arkansas Department of Finance (publications) and Arkansas Department of Health (promotions); Hi-tech industries: American Airlines, Zenith Data system, Motorola and Ameritech; Direct mail catalog design firms: Moore Business Solutions Direct, American Academy of Family Physicians, Cole-Parmer Instruments, Inc.; Advertising agencies: Tucker Knapp Integrated Marketing Communications, Bartlett's Peak Communications, HRS Advertising Inc. For over 20 years, I've operated freelance as King-Viscom and Timothy King Design. I've been teaching college courses in graphic design over fifteen years, including advanced, intermediate, and fundamental classes.
I'm a painter, and I exhibit nationally and in the Midwest. My work is figurative. The landscape is my primary interest, but I do work with the model and develop humanistic allegories from those life studies. I am a co-founder of the Midwest Paint Group artist collective and its director of exhibitions and communications (20 years). I have shown regularly in New York City over the last fifteen years at the Bowery Gallery, Blue Mountain Gallery, Westbeth Gallery, and in 2006 a solo show at the Bowery Gallery. I've exhibited in shows I co-produced. These exhibitions include the Albrecht Kemper Museum of Art (St. Joseph, MO), Swope Art Museum (Terre Haute, ID), Taubman Museum of Art (Roanoke, VA), Springfield Museum of Art (Ohio), Beverly Art Center (Chicago, IL), Leedy-Voulkos Art Center (Kansas City, MO), Spiva Center for the Arts (Joplin, MO). I'm represented in Chicago by Kate Hendrickson Works on Paper. I have taught drawing, painting, figure drawing, two-dimensional design, and color theory.
Education: Foundations-Columbus College of Art and Design, BFA-Kansas City Art Institute, MA-University of Tulsa, MFA-Northern Illinois University.