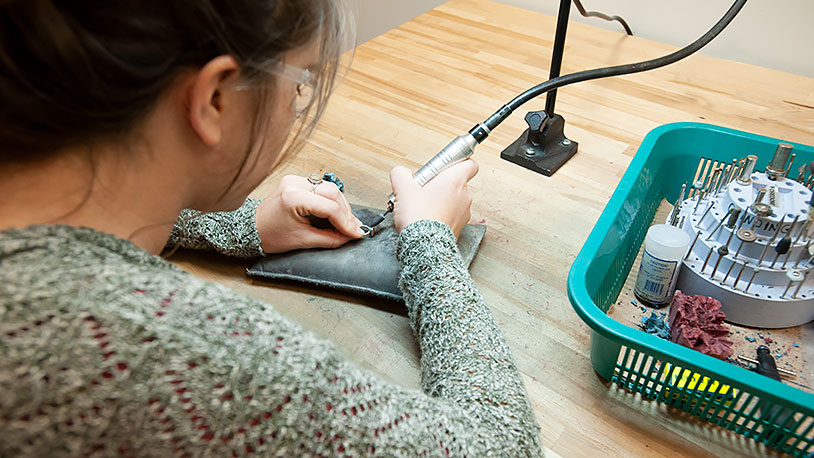 Jewelry
Does the Art Department offer jewelry courses?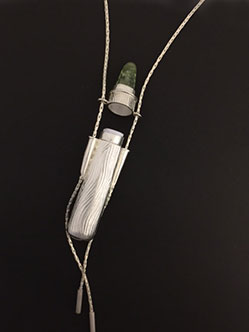 Yes, we offer jewelry courses, including:
Students who wish to supplement repeated jewelry courses are offered additional curriculum choices including:
Faceted stone setting
Container forms
Hinges and mechanisms
Reticulation
Anticlastic raising
Fold forming
Mold making/multiples
Tool making
Ability to work with gold and silver, as well as copper, brass, bronze and nickel
What equipment is available to jewelry students?
Jewelry courses utilize a large 3D studio with integrated TV/DVD capabilities and hook-up access for internet. In addition, jewelry students have access to a dedicated soldering and casting lab.
Large, programmable burnout kiln
Centrifugal caster
Vacuum table
Electro-melt furnace
Natural gas/compressed air torches
Acetylene/atmosphere torches
Four fully-equipped soldering stations
Three flexible shaft machines and accessories
A two-spindle buffing machine with filter
Rolling mill
Drill press
Glass bead blaster
Etching materials and equipment
Mass finishing and tumbling setup
Raising/forging equipment
Bracelet, ring, and bezel mandrels
Wide array of hammers and hand tools
Access to fully-equipped wood shop
What are students working on in jewelry classes?
See examples of jewelry students' work.
Who teaches jewelry courses?
What job opportunities are available to jewelry students?
Students work as:
Teachers
Jewelry sales staff
Jewelry repair staff
Professional jewelers
Jewelry designers
Jewelry production managers