Black Box Theatre | 24-Hour Play Competition, Spring 2023
There were thirteen contestants broken up into three groups. The theme was "Unusual Dreams". The teams arrived at 6:00 PM on Friday, April 21, and were ready to perform their plays by 6 p.m. Saturday, April 22. Every four hours the teams were given something they had to add to their play such as a line, prop, and music. The winning production judged by a panel of five (faculty Ted Hazelgrove and Kate Midday, Alum Bill Daniel, and local theatre directors Jeff Cook and Karen Jorgenson Cook) chose Stuck in the Realm as the winning play!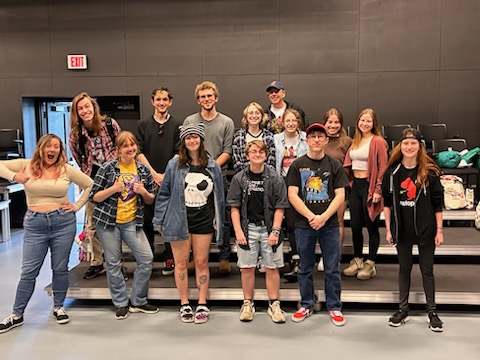 Top Row - Alex Kaparri, Vaughn McMillan, Nathan Bodecker, Addie Keller,
Jay Geller, Isa Aguilar, Olivia Greenwald, Emma Himley Bottom Row - Maggie McCord,
Grace Christy, Sammy Koeune, Skye Schoen, Cody Klimek,
Caitlin Cummings (Not pictured Trinity Anderson)
---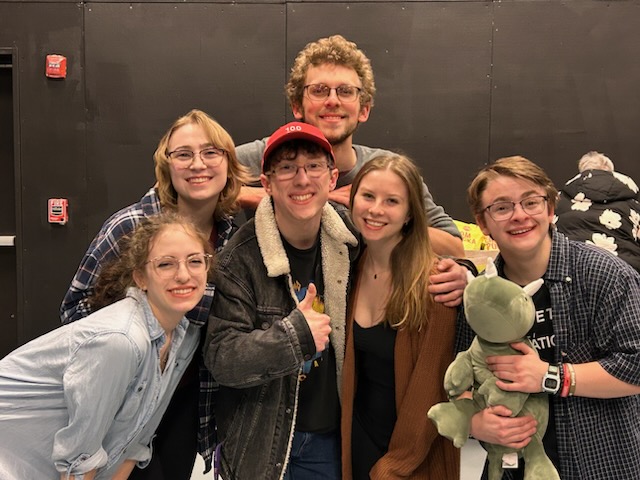 The winning team, made up o Isa Aguilar, Addie Keller, Cody, Klimek,
Nathan Bodecker, Emma Himley, Skye Schoen
Plays in Competition
Dr. Eam's Subconscious Psychotherapy 
Stan Duhr - Alex Kaparri 
Vicky Tim - Sammy Koeune 
Will S. Dreams - Grace Christy 
Stuck in the Realm
Timmy – Skye Schoen 
John – Cody Klimek  
Trixie - Isabella Aguilar  
Mom – Addie Keller  
Dad - Nathan Boedecker
Katya – Emma Himley 
(Skyla)
Σκύλα (Skyla) - Vaughn McMillan
Andy - Trinity Anderson
Sammy - Caitlin Cummings
Eloise - Oliva Greenwald
This play takes place in Andy's grandparents' basement.
---
Special Thanks
Dr. Daniela Broderick
Campus Police
Guin Mathey
Lisa Roth
Alex Ingwalson
Maxwell Robey
Mary Brodie
Suzanne E. Hannon
Lisa McCord
Katy McCord
Maggie McCord
Spencer White