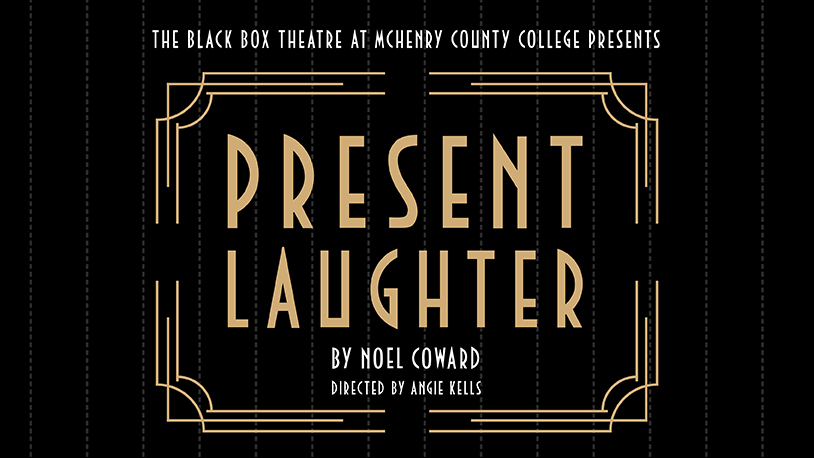 The Black Box Theatre
MCC students explore the world of the theatre through courses on acting, character analysis, scene preparation, theatre design, scene construction, costuming, and lighting and you are able to enjoy fabulous entertainment as a result!
---
Spring 2024 Production Auditions on December 11 and 12
The Black Box Theatre is proud to announce auditions for the Spring 2024 production of Noel Coward's witty and hysterical play, Present Laughter, directed by Angie Kells. At the center of his own universe sits matinee idol Garry Essendine: suave, hedonistic, and too old, says his wife, to be having numerous affairs. His line in harmless, infatuated debutantes is largely tolerated but playing closer to home is not. Just before he escapes on tour to Africa the full extent of his misdemeanors is discovered. And all hell breaks loose. Noel Coward's Present Laughter premiered in the early years of the Second World War just as such privileged lives were threatened with fundamental social change (Concord Theatrical).
There are roles for 11 actors of all genders. Roles include Garry Essendine, a self-obsessed famous London actor; Liz Essendine, Garry's stylish and poised wife; Morris Dixon, Garry's theatrical manager and friend; Henry Lyppiatt, Garry's longtime producer and friend; Joanna Lyppiatt, the confident, glamorous wife of Henry; Monica Reed, Garry's tolerant secretary and confidante; Daphne Stillington, a pretty debutante and ardent admirer of Garry; Roland Maule, an earnest, aspiring playwright who is an obsessed fan of Garry; Fred, Garry's easygoing, unrefined valet; Miss Erikson, Garry's chain-smoking housekeeper; and Lady Saltburn, a wealthy aristocrat.
Auditions for Present Laughter will be held Monday and Tuesday, December 11 and 12 from 6–8 p.m. in The Black Box Theatre. Callbacks will be held on Thursday, December 14 from 6–10 p.m. Please prepare a two-minute comic monologue with a British accent. At callbacks, actors will read from the script.
Rehearsals will begin on Wednesday, January 17, and will be held every Monday, Wednesday, and Friday from 6–9:30 p.m. Performances will be held on March 8, 9, 10, 15, 16, 17, 22, 23, 24.
Meet the cast for the Fall 2023 Production of Frankenstein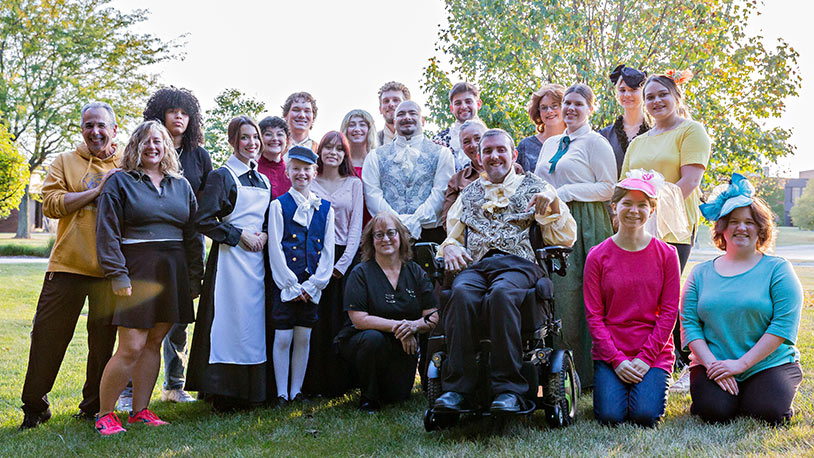 Top row, left to right: Jay Geller, Nicole Molgado, Wyatt Mizerk, Addie Keller, Nathan Bodecker, Ethan Sherman, Sheri Warren, Trinity Anderson
Second row, left to right: Maggie McCord, Izzy Griffin, E.J. Svendson, Lucy Hagen, Mailin Contreras, Jake Seelye, Lucinda Nicholas, Rachel Loeding, Taylor Runge
Bottom row, left to right: Carol Foreman, Asa Pittner, Angel Zuhlke, Bobby Roberts. Not Pictured: Willow Broussard.
Photos courtesy of Christy Sturm.
Production Information for "Juliet and Romeo"
"Juliet and Romeo" is directed by Jay Geller with set design by Eric Luchen, lighting design by Maxwell Robey, costume design by Carol Foreman, fight choreography by Bill Daniel, dramaturgy by Ted Hazelgrove, scenic painting by Holly Adkins, and stage management by Alexis Rogganbuck.
---
Select a poster and check out our past productions!