Kathy Escobar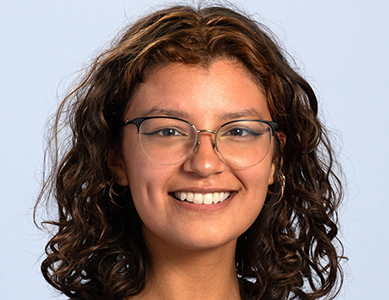 MCC student Kathy Escobar found more than an education in the Art Department at MCC—she found a second family.
Escobar, who is currently studying general arts at MCC, started at the College in 2018 by finishing some credits she needed to graduate high school.
"I unfortunately didn't have a great high school experience and needed another option to continue my education," she said. "I took several electives at MCC my first year trying to find something I would be interested in studying. I've enjoyed art my entire life, as my siblings are artists, and I was able to watch them from a young age. I, however, did not always think I would be an artist. I didn't have a specific medium I was interested in until I started taking ceramics at MCC."
The community she found in MCC's ceramics studio ended up inspiring her to one day teach ceramics at a college level and create the same type of supportive space for others.
"One of the things I enjoy most at MCC is the advice I get from the retired women in the studio," she said. "They've gained so much knowledge throughout their lives and they are so open and willing to share."
In her art, Escobar focuses on wheel-thrown ceramics and altered forms to create human figures.
She is also a student worker in the Art Department, helping to set up and maintain the art galleries around campus.
"I love being a student worker," she said. "It gives me an opportunity to get an inside look at what the instructors do. Each of them has taught me so much, even those whose classes I have not been in. I work under Trevor Power, the art gallery curator, and I couldn't ask for a better boss. He's extremely knowledgeable and pragmatic and teaches his student workers so much."
This summer, Kathy also took advantage of MCC's Study Abroad program at the University of Burgundy in Dijon, France.  
"Studying abroad was one of the highlights of my MCC experience and I am so grateful to have had the opportunity," she said. "France was beautiful and has so much history. I'm excited to figure out how it informs my work going forward. I adore Provence, France, and want to go back someday to see more of it."  
This summer, Escobar also learned she was a recipient of an Education to Empowerment (E2E) scholarship, which provides mentorship opportunities and $10,000 in funding for each student that can be applied toward tuition, books, and fees for a recipient's last year at MCC and first year at an accredited four-year institution.
"When I found out I was selected for E2E, I was on my way home from MCC, and was so excited that I turned around to go tell my instructor, Tom Vician," she said. "Tom has been through everything with me, and I wanted to tell him first. I think telling him made it real. He was so happy and proud of me. I'm grateful that I had the opportunity to thank him."
Through it all, Kathy remains focused on her education. She is looking at attending Northern Michigan University for her undergraduate degree starting in January 2024.  
"I want to get my Bachelor of Fine Arts and then my Master of Fine Arts in ceramics and we'll figure it out from there," she said. "E2E has made it possible—and for that, I am extremely grateful."
As for her advice for current or future MCC students, Escobar says to take advantage of how instructors at MCC will work with you and meet you where you are.
"Don't take that for granted and glean all you can from it," she said. "If you give it your all, your teacher will match that energy. There isn't anything that can't be done by an eager student and eager teacher."
Learn more about Art programs at MCC