Genesis Encarnacion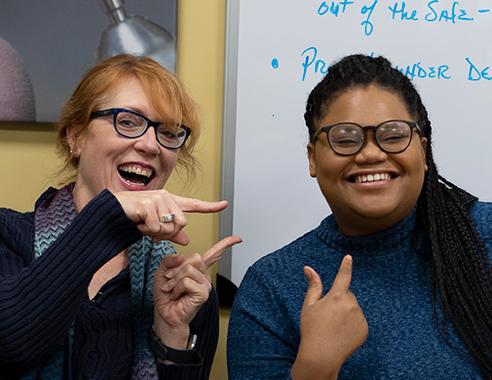 MCC student Genesis Encarnacion is getting first-hand experience in her future career.
She recently started a marketing internship at Dougherty Enterprises, a Woodstock-based manufacturer that owns Thumbies & Buddies Keepsakes and Studio D Jewelers, which creates personalized keepsakes and other custom jewelry lines. As part of the internship, she works on various website projects, search engine optimization (SEO), social media, as well as some modeling, graphic design layouts, and other tasks.
"I've learned a lot about social media and about how to read analytics to formulate a plan for growth," Encarnacion said. "I've also learned a lot about SEO and how crucial it is in driving traffic to a website. I've seen how businesses work in an ecosystem with each other, and how important it is to have solid business relationships."
Encarnacion is currently in her second year at MCC where she is studying graphic arts.
She initially learned of the internship opportunity from her instructor in the fall of 2021 and started with Thumbies in October. She will be there until the end of the Spring 2022 semester.
"We've been so fortunate to have Genesis with us," said Jennifer Myers, director of marketing at Dougherty Enterprises. "We're a relatively small team and she has fit right in with our lead designer and content creation manager, as well as the team overall. She has great organizational skills and has assisted us with creating and posting events online, done deep dives into our social media accounts to pull useful analytics, and has contributed ideas across our lines of business, offering valuable insights from a younger perspective that might not have occurred to us otherwise. She is always upbeat and positive and has been a real pleasure to have as our intern this year."
Encarnacion is working to graduate with her associate degree by the end of 2022, then plans on furthering her education and eventually starting her own freelance web design business. Outside of school, Genesis volunteers at The Artspace run by Epic Church in Lombard.
"My advice for other students pursuing internships is to prepare before the opportunity arrives," Encarnacion said. "Get out there and do what you love. Pursue opportunities, learn everything you can from your professors, ask for help, ask a lot of questions, and form connections. Don't take 'no' for an answer and explore all avenues possible. At some point, your opportunity will meet your preparation. And never underestimate the power of a beautifully designed resume or cover letter."