Sarah Ruthven, 2019 Full-Time Faculty Member of the Year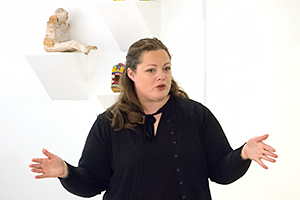 McHenry County College art instructor Sarah Ruthven is fascinated with the beauty and relevance of art history and enjoys sharing her expertise and passion of the visual world with students. To keep her subject matter relevant and meaningful to students, she often infuses popular culture and personal narratives. Her course content and assignments explore technique and interpretation.
Her commitment to excellence in teaching has earned her the distinction of being selected MCC's nominee for the Illinois Community College Trustees Association's (ICCTA) 2019 Outstanding Full-Time Faculty member award and MCC's Full-Time Faculty of the Year for 2019.
"I like the interaction with students," Ruthven said. "When I introduce something complicated and I guide them through the material and all of a sudden, it clicks for them, that's a privileged thing to be a part of."
"As an instructor, my focus is getting students to understand how to analyze and interpret artwork," Ruthven said. "I teach students how to think through an image rather than memorize the style, for example."
"Sarah does an exemplary job of instructing our students and challenging them to understand the origins of art creation," said Chris Gray, Ph.D., vice president of Academic Affairs and Workforce Development. "She is well-respected by students and her peers.
"Sarah Ruthven has been one of my favorite teachers so far at MCC," said Reese Scarnato of Algonquin. "She makes the classroom feel so comfortable and inviting. There's never a feeling of being judged for saying how you feel about a certain piece of art. Her lectures are so interesting that I don't want to ever miss class."
In addition to teaching, Ruthven has been a participant and a leader on campus during her 12 years at MCC. Most recently, she has been instrumental in rebuilding the MCC 101 Freshman Experience course. She led a committee of 20 people to refocusing the needs and goals of the course and led an initiative to rewrite the course materials.
In addition to teaching Art History, Art Appreciation, and Humanities through the Arts, Ruthven co-teaches the learning community class, Gandhi's Playlist: Eastern Philosophy and Non-Western Art History, with philosophy instructor Tim Seitz.
Ruthven recently completed her second Master of Arts degree in modern and contemporary art history and criticism from Azusa Pacific University. She earned her Associate in Arts degree from Southwest Community College in San Diego, her Bachelor of Arts degree in art history from the University of San Diego and her Master of Arts degree from the School of the Art Institute of Chicago.