Kate Kramer
2023 Full-Time Faculty Member of the Year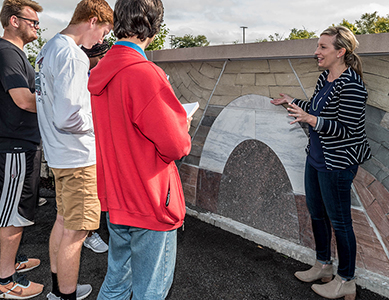 As an earth science teacher, Kate Kramer encourages her students to stay curious.
"Maintaining a sense of wonder is what helps us push the boundaries of what we know," she said. "Earth science is a field that is constantly evolving and changing as we learn more about our planet and the forces that shape it."
Kramer, who has been a full-time faculty member at MCC since 2009, was recently recognized as MCC's 2023 Full-Time Faculty Member of the Year. The award recipients, selected by peers, are chosen based on their commitment to teaching, contribution to the college community, and professional development.
"Kate is a change agent who is committed to the success of her students and making the world a more sustainable place," said O'Neil Wright, Dean of Mathematics and Sciences at MCC. "She understands the importance of engagement and works tirelessly to inspire her students to become curious about the Earth's long history and the impact of its resources in our daily lives."
Kramer got her start in geology early in life.
"My dad is a hydrogeologist, and my grandfather was a water-well driller," she said. "While I was completing my master's degree, I received a job offer to work for an oil company—but I had the opportunity to be a teaching assistant during my last semester of my master's degree and it changed my life. I really enjoyed teaching, so I pursued a faculty position at a university." 
Kramer completed her undergraduate degree in hydrogeology from University of Wisconsin Oshkosh and her master's degree in glacial geology from Indiana University, where she got to study in Antarctica. She is currently pursuing a doctoral degree in education for sustainability at University of Wisconsin Stevens Point.
Making a Difference at MCC
Kramer currently teaches Introduction to Physical Geology and Geology of the National Parks at MCC, but has also taught Global Environment and the honors section of Geology and Oceanography.
One of the core tenants of her teaching philosophy is the inclusion of many hands-on lab activities.
"In geology, hands-on experiences are crucial to our understanding of the Earth. The more hands-on I can make my classroom, the better," she said. "I really enjoy teaching mineral and rock identification. I love hearing from students who have a specimen at home that they can now identify because of my class. I also enjoy taking my students on field trips to examine the glacial geologic features of McHenry County—there is so much great geology in their backyards!"
Kramer has seen many changes at MCC during her tenure, including the addition of the Liebman Science Center in 2018.
"The Liebman revolutionized teaching science on this campus," she said. "It was exciting to be part of the process of creating a place where our students could be immersed in science at MCC. The outdoor GeoScene I created is a hands-on teaching tool that is used in many different courses and is something not found on any other community college campus."
The GeoScene wall, a colorful geological structure located just outside the entrance to the Liebman Science Center, features the shapes, colors, and composition of rocks found underground. MCC's wall is the largest in the country, measuring approximately five-and-a-half feet tall and 16 feet long. It features all three rock types: igneous (granite), sedimentary (sandstone and limestone), and metamorphic (quartzite and marble).
In addition to making a difference in the classroom, Kramer is also the chair of the Earth Science department, a member of the Sustainability Committee, and a mentor for the STEM Scholars program.
"The students are the best part of teaching at MCC," Kramer said. "They bring a sense of joy, curiosity, and inspiration to the classroom, and provide teachers with constant opportunities to learn and grow. Most of my students have never taken a geology course—and I love introducing them to the subject."
Kramer has had many students go on to major in geology, and some have even completed master's degrees and PhDs in the field.
"Ultimately, my goal is to inspire and empower my students with the knowledge, skills, and confidence to achieve their goals and make a positive difference in the world," Kramer said. "I believe every student has the potential to succeed. My role is to facilitate this growth by creating a supportive and inclusive learning environment that fosters curiosity and encourages students to take risks and challenge themselves."