Taking Action Through Artwork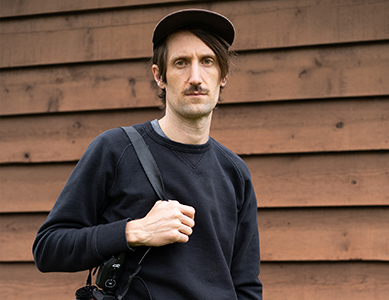 MCC photography instructor Justin Schmitz was one of 85 local artists who collectively raised more than $48,000 for the Greater Chicago Food Depository earlier this year.
Through the Print for Hunger Campaign, the group of Chicago artists sold their prints at affordable prices and donated the proceeds to the Food Depository. Each print in the collection was available for a $100 donation plus $5 in shipping.
Schmitz was one of the artists to help organize and recruit other Chicagoland artists for the cause.
"One of my best friends and artist colleagues, Marzena Abrahamik, came up with the idea," he said. "We were inspired by our friends in New York who organized a similar photography print fundraiser so a neighborhood hospital could buy PPE and other supplies for their staff."
"The idea was that individuals could donate money to help the community deal with the food insecurity many are facing as a result of the Covid-19 pandemic—and we could thank them by providing an extraordinary piece of art," Schmitz said. 
The campaign showcased a wide variety of photography, including projects depicting Chicago neighborhoods, representations of identity, landscapes, and more. The photograph Schmitz chose for the fundraiser was titled "Flowers and Letter Marengo, II," an archival inkjet print.
"The artist community was really excited to help out," said Schmitz. "Once the project was up and running, we used social media platforms to promote the work. Marzena and another artist who helped start the project, Leonardo Kaplan, were interviewed by WGN and the local Fox News station. "
The group chose the Greater Chicago Food Depository because of the organization's work with communities on Chicago's South and West Sides, which have been particularly impacted by the pandemic.
"During a time when there is so much instability and chaos, it's important to use your talents, skillsets, and abilities to do whatever you can to positively impact your community," Schmitz said. "By using our artwork in an unconventional way, we were able to provide some relief to our fellow citizens. The overwhelming involvement of the artist community and the generosity of those who purchased prints gives me hope at time when darkness and despair is encroaching from all sides. Creating and consuming art is an important part of the human experience and this fundraising project allowed us to share our work and help our community."
Now in his sixth year at MCC, Schmitz teaches Digital Photography 1, 2, and 3; Darkroom Photography 1; and Graphic Design. 
"I want my students to be artists," Schmitz says of his teaching philosophy. "I often tell them if they are viewing class assignments as "homework," they are not fully participating. I want my students to bring their whole self to class, not just the "student" part. I encourage my students to make mistakes and extend themselves beyond their perceived limitations. I want them to grow by questioning everything and engaging their curiosity, even if that sometimes means challenging authority and the status quo."
Like many instructors across the country, the pandemic has changed the way he's been able to deliver classes this year—but he has seen some positive outcomes from this switch as well.
"Remote teaching has not changed my focus on student-centered learning," he said. "While I selfishly miss the ease of being in the classroom, I feel that my instruction has become more clear, wider in scope, and way more dynamic. Over the summer, I built a custom website with tons of instructional videos, assignment content, and even wrote and designed free digital handouts that have completely replaced all the textbooks my students would ever need." The website can be viewed at www.schmitzteachesphoto.com.  
"I've refined my assignments to be more accessible and more clearly defined. I am working hard to provide a learning environment that—while it may not work the same way as traditional modes—is still rigorous, thoughtful, and dare I say hopeful."