Maridell Markison
The Dolores E. Hall Memorial Scholarship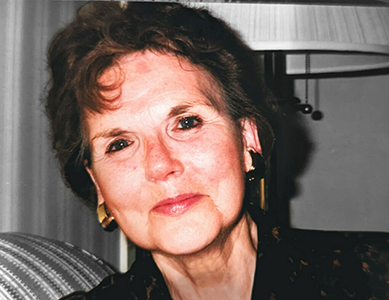 Throughout her life, Dolores E. Hall was a strong supporter of education, youth, and the arts.
For 60 years, she worked as a legal secretary in downtown Chicago, doing research, preparing paperwork, appearing in court, and filing most of the lawsuits brought to the practice.  
As the main contact for the firm, she also developed close relationships with many clients—and even attended many life celebrations with them.
"She only retired at age 79 because her boss of over 25 years was retiring," said her daughter, Maridell Markison. "She said she just didn't have the energy to train another boss!"
College was not an option for Dolores, but it remained one of her passions throughout her life.
"She placed a high value on education," said Markison. "She always said it was the one thing no one could ever take from you."
In 1984, after surviving a bout with cancer, Dolores began writing in journals—and soon after started attending writing workshops at the University of Iowa to hone her craft. She also took frequent night classes after work.  
After her husband passed in 1986, Dolores began submitting her humorous writing samples to various publications across the world. She was published in Senior News, The Seniors Review, Ontario, and even a magazine in India, all while still working full-time in Chicago.
"She had a vast array of friends from birth, school, work, and volunteering," said Markison. "She enjoyed the arts and loved a good musical. Her sense of humor and quick wit were unparalleled—and she never acted or showed her age."
Dolores was also a lifelong supporter of St. Jude's and Smile Train, as she enjoyed helping others.  
When Dolores passed away at the age of 91 earlier this year, Markison decided to establish a scholarship in her honor.
"This scholarship is a way to honor my mom and help others who may struggle financially to further their education," she said. 
Maridell, her husband, and three of her four children have all attended MCC. Markison herself is active in education and has been a part of MCC's Education to Empowerment women's mentorship and scholarship program since 2017.
"I'm so proud to support this organization," she said. "I love listening to the recipients' graciousness and realizing we are making a huge, life-changing difference that can never be taken away. This program truly empowers these young ladies to discover their passions and live their dreams."
The Dolores E. Hall Memorial Scholarship will award $1,000 per semester to a returning MCC student or single parent.
To view all available scholarships at MCC, visit www.mchenry.edu/scholarships.