Carol Alfus
The Greg Alfus Memorial Scholarship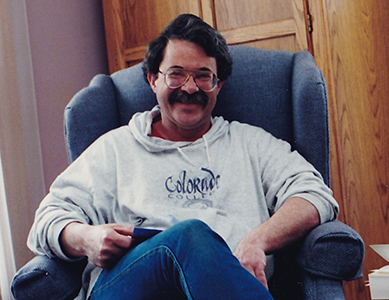 Greg Alfus made an impact on thousands of students during the 32 years he spent at MCC.
Originally hired in 1972, Greg taught composition and literature at the College and served as the chair of both the English Department and Academic Success Center (now the Sage Learning Center) until he retired in 2004.
When Greg passed away in June of 2020, his wife, Carol Alfus, decided to honor his memory by establishing the Greg Alfus Memorial Scholarship. 
"Greg worked so hard to help his students succeed," Alfus said. "He always went out of his way to help students who were struggling. I see this scholarship as a way to honor that commitment and continue the care he gave to students all those years."
According to Carol, a certain group of students always had a special place in his heart.
"Greg cared about all of his students, but returning adult students were especially meaningful for him," Carol said. "He admired how they juggled everything—family, work, school—all to better themselves or to go in a different direction. It's not easy—and it's brave to take that first step."
The Greg Alfus Memorial Scholarship provides up to $1,000 to one female applicant each fall and one male applicant in the spring. The money can be applied toward tuition, books, and fees for the semester rewarded. 
"I would encourage students to take advantage of everything MCC has to offer," Carol said. "Not just in terms of academics and continuing professional education, but also Career Services, Academic Advisors, Student Clubs—the list goes on. These resources can truly help them succeed and enrich their college experience."
To view all of MCC's available scholarships, visit www.mchenry.edu/scholarships.