Andrew Nuño
Emmy-Winning Producer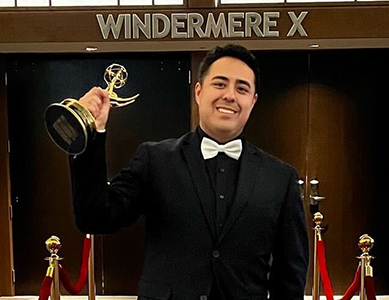 Andrew Nuño has something to smile about this award show season! The MCC alum recently won a Suncoast Regional Emmy for his role in producing "Planning Your Perfect Mardi Gras," a video segment that was part of a two-hour show called "Mardi Gras for All Y'all!".  
Nuño produced the video with Lightswitch Video, the production company where he has worked for nearly three years.
"We wanted to give advice to folks who've never been to Mardi Gras before and want to make the most of their experience," said Nuño.
As the producer, Nuño gathered the crew for the shoot, worked through the logistics of the video based on what the client wanted, organized the shoot, and worked with the editing team to ensure the finished product matched the client's vision. He also got to work with local bands, TODAY co-anchor Hoda Kotb, and various New Orleans natives.  
"The most rewarding part of creating the video was watching the first draft come together," Nuño said. "This segment combined an intro from ESPN analyst Cooper Manning with a life-long New Orleanian giving Mardi Gras advice and a segment of us asking random folks on the street for their Mardi Gras advice. The way these bits came together was so exciting."
Nuño's Emmy ceremony took place on December 10, 2022, in Orlando, Florida.
"It feels like a very full-circle moment," Nuño said of the experience. "I've been creating videos/films since I was 13 with my twin brother and it feels very surreal to receive an Emmy win. To have achieved one of my childhood dreams is thrilling and it makes me incredibly excited to see what else the future holds."
The best part about the Emmy ceremony was being able to bring his entire family along for the ride, Nuño said.
"They've been my biggest supporters since the very beginning, so being able to share not just in the Emmy win but also the entire journey of attending an Emmys ceremony with them was incredibly special."
Nuño credits MCC for some of the lessons that helped him get where he is today.
"I was able to explore my love for film through the guidance of MCC Film instructor Jim Stockwell, and I learned how to persevere and keep things organized through my on-campus job at the Sustainability Center with Kim Hankins," he said. "Even being on MCC's Speech Team led by Bonnie Gabel helped me when preparing my speech for the Emmys. All three of them gave me important skills that have helped me greatly in my career."