Cheryl Murillo
Returning Adult Student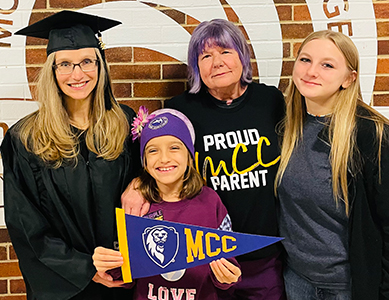 Cheryl Murillo's journey with MCC has spanned several decades.
She first became a student back in 1993, right after graduating high school.
"I was 17 years old and didn't have a clue where my life was headed," she said. "But the following year, I accepted a job at United Airlines in their Cargo Accounting Department. At that point, I thought I had it all figured out. School was no longer a priority for me."
She continued to take classes on and off throughout her time at United. But after September 11, 2001, she found herself rethinking her career path.
"No one could have predicted what happened next," she said. "As I watched United Airlines go from a global superpower to a company that had filed bankruptcy, I knew I needed to shift gears and come up with a new plan for my future."
In 2004, she accepted a job working as a police officer with the Chicago Police Department.
"My father had always been a police officer, and he was a strong advocate for the stability this career offered. Even though I had not completed my associate degree at this point, I luckily did have the required credit hours to get hired."
Being a part of one of the country's largest police departments brought with it the sense of job security Cheryl was looking for.
"Now, at 29, I again thought I had it all figured out," she said. "Who needs school when you are lucky enough to find a career like this?"
But this year, after 18 years with the Chicago Police Department, Cheryl started considering retirement.
"I was only two years away from having 20 years on the job," she said. "As I started thinking about what I was going to do after retirement, I wondered—was I really done with school?
After dealing with some of her own health issues over the years, the thought of helping people regain or maintain their health spoke to Cheryl.
"This was a different type of career choice," she said. "I was no longer looking for things like salary or job security. I wanted to make a difference in the world and become the best example for my children. I was now looking for what would fulfill my soul and give me a greater purpose."
She reached out to the National University of Health Sciences (NUHS) and inquired about their Naturopathic Doctor (ND) program. But she ran into a problem when they asked her if she had her bachelor's degree.
"When I said no, they asked if I had my associate degree. That gives me a pit in my stomach—how would I explain that I started my degree nearly 30 years ago but never completed it?"
She sent over her transcripts and found out she was one class short of being able to apply for their bachelor's program.
So, after several years away, Cheryl returned to MCC to complete the course. But while registering, she discovered she was only two more classes away from getting her associate degree. She made the decision to register for all three classes.
"As a teenager, I never imagined I would be returning at 46 years old," she said. "I was very nervous about going back after being out of school for so long. But after taking a biology class this summer, I found myself looking forward to each class, eager to learn. I couldn't wait for the next hands-on lab."
Cheryl graduated from MCC in December 2022 with her Associate in Arts and was the student speaker at the commencement ceremony. She is now working toward her bachelor's degree in biomedical science at NUHS.
"Each day, I know I am one step closer to reaching my goal," she said. "Looking back, no matter how many times things have changed—my career, my priorities, my goals, my plans, my family—the one constant that remained was the importance of school. Even when I did not realize it, school was always important."
When asked what advice she would offer current students, Cheryl said:
"Build your own table so you will never have to beg for a seat at anyone else's. After working in both corporate America and in law enforcement, I can tell you that statement brings with it a powerful truth. Do something that your future self will thank you for because your future self will be here before you know it. Continue your education, continue growing your collection of 'power tools,' and go out and build your own magnificent table. And not just for you—for those who may one day look to you to help them figure out their own place in this unpredictable world."