Riley MacKenzie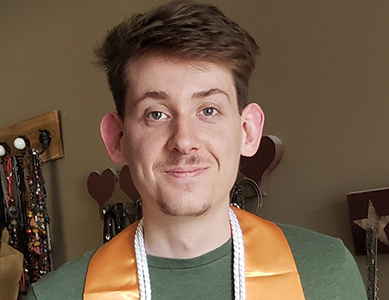 Riley MacKenzie graduated MCC in 2020 as the president of the Chi Upsilon Chapter of Phi Theta Kappa honor society—but he wasn't always sure his story would look that way.
After graduating high school, he didn't know if he was going to attend college.
Frustrated by limited options and a lack of financial resources, he saw himself going straight into the workforce.
Luckily, his parents encouraged him to check out MCC.
"MCC saw potential in me after high school," he said. "When I started, I wasn't sure what I wanted to study—but I enrolled in a psychology class and really enjoyed it."
In his first semester, he didn't really get involved in activities outside of his classes. But once he did, his whole experience was transformed.
Riley started going to events and activities, meeting new people, and making great friends. Eventually, he found Phi Theta Kappa (PTK).  
"It was the best thing I ever decided to participate in," he said. "I started as a general member, but during my last semester, I was voted in as the president of our chapter. Anne Humphrey and Heidi Boring, our two advisors, encouraged me to run for this position. Without their encouragement and faith, I would have never tried for this opportunity and my life would not be anything like it is today. Being in that position gave me the confidence I was always lacking when it came to academics. I was actually a poor student in high school, so this truly helped start a much-needed new chapter in my life." 
All of PTK was unforgettable, he said.
"Going to see all my fellow nerds in the 'NerdCave' (the headquarters of PTK at MCC) was the highlight of every day. It's a big room with multiple computers, a huge table for homework (or games!), a very comfy couch, and cabinets filled with free snacks and drinks—what more could a student ask for?"
He also enjoyed classes taught by instructor Jim Stockwell.
"I took all three of his classes—Film, Advanced Film, and Speech," he said. "He made every class a class I was excited for. He would always tell a joke at the end of class—and even if you didn't laugh, it made your day better. He was the best professor I've ever had!"
Riley is now off to continue his education at Edgewood College in Madison, WI, where he'll be studying to earn an Organizational Behavior and Leadership degree.
"I was interested in this program because it mixed two of my favorite subjects, business, and psychology," he said. "I'll also be going for a psychology minor and a certificate in public relations."
Riley's dream job would be to work for a professional basketball team helping the players and staff on and off the court with problems that are holding them back from being their best.
As for current MCC students or those considering MCC, Riley encourages them to get involved in clubs or activities.
"MCC is what you make of it," he said. "Yes, the college is a large building with a lot of resources. But you will find toward the end of your journey at MCC that the most important part of it all is the people there. From the staff to the students, it's the amazing people that make MCC what it is. Enjoy your time there, because some of my fondest memories occurred while attending MCC—and I know the same can happen to you."