Carina Lopez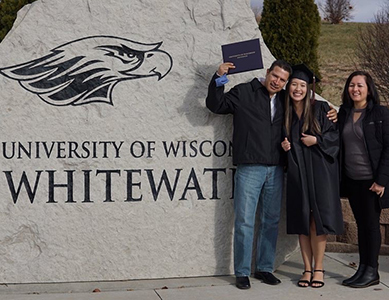 Dedicated, resourceful, resilient—these are only some of the words that can describe Carina Lopez and her unique college experience.
Lopez began her college education at MCC with the goal of eventually continuing her studies at a four-year university. But she wasn't exactly sure what she wanted to pursue.
"My favorite high school teacher, Mrs. Guild, always told me I was a great writer—but I didn't really know what to take from that," said Lopez. "I really enjoy telling stories and talking to people, which eventually led me to the field of journalism. I took my first journalism courses at MCC to feel it out, and I really loved it. I continued it from there."
One of the projects that helped her make that decision was an independent research project she conducted with the help of MCC instructor Jim Stockwell.
"It was on the progression of bilingualism in journalism," Lopez said. "Mr. Stockwell made it a great experience. He's an excellent professor and made class and the project very enjoyable."
As she approached her graduation from MCC in the spring of 2019, Lopez began looking at four-year schools with reputable journalism programs. She eventually decided on the University of Wisconsin – Whitewater.
"Whitewater had a great journalism program, plus it was relatively close to home," she said of her decision. "When I visited the campus, I loved everything about it."
But Lopez's transfer experience was about to become anything but ordinary. After taking a semester off to earn some money to pay for school, she started at Whitewater in January 2020. She was only beginning to get comfortable at school before the pandemic started only a few months later.
"I didn't get to join any clubs; I didn't get to go to any events. I was looking forward to my college experience, so everything moving online was pretty upsetting, to say the least," Lopez said.
That fall, Lopez was back on campus, although the majority of her classes remained online. Eager to gain a more traditional college experience, Lopez incorporated some strategies to make things feel more normal.
"Going back in the fall after the school shut down in the spring was still very odd," Lopez said. I found that going to the library, the commons, or just being on campus made it feel more typical."
Lopez also took advantage of hands-on learning opportunities, working for Whitewater's newspaper, The Royal Purple, as well as internships with the Northwest Herald and NBC 5/Telemundo Chicago—even creating opportunities for herself.
"Working with the Northwest Herald was great," Lopez said. "My supervisor was really helpful and always gave me great feedback. I got this internship by emailing them actually—there was no opening for the position—but I was really eager to get my foot in the door."
After completing the internship, Lopez knew she had picked the right career.
"Interviewing different individuals and writing a story is so much fun," she said. "You're always learning something new that you can share with your audience."
As the summer of 2021 approached, Lopez thought about getting another job to save money for school—but she also felt drawn to find something that would help her build her resume and gain more experience. She saw an internship opportunity at NBC 5 Chicago and decided to apply.
"I didn't really think I would get it—but I thought it couldn't hurt to at least try," she said. "Then I ended up getting an interview and ultimately the internship! I absolutely loved working with them. It was my first experience with digital media, and I was constantly consuming new information."
At NBC 5, Lopez learned how to use WordPress, incorporate principles of search engine optimization (SEO), and improve her writing overall.
"I also got the chance to work on some Olympics material, and covered basically all of the Clear the Shelters event," she said. "I learned so much from that internship, and now use a lot of that information in my daily life."
Lopez graduated from the University of Wisconsin-Whitewater in December of 2021 with a Bachelor of Arts in Journalism.
She advises students thinking about attending college to just take the leap.
"You can start off at MCC and have a great experience too," she said. "Starting there was probably one of the best decisions I've ever made. Financial aid helps you a lot too if that's what's stopping you. MCC also helped me figure out and test what I wanted to do before I declared a major at Whitewater."
Good luck Carina, and congratulations on all of your success!