Julie Magnini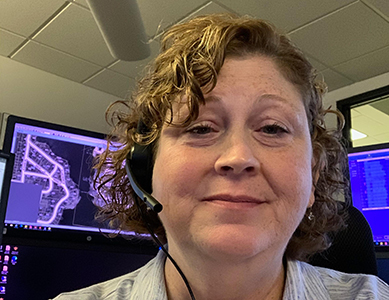 Julie Magnini is no stranger to working in the medical profession.
"My father was a police officer and my mother was an emergency dispatcher, so I suppose that's where the interest started for me," said Magnini.
Beginning her career in the Critical Care Unit of the Emergency Room at Northern Illinois Medical Center (now Northwestern Medicine), Julie selflessly made an impact in the community caring for others hands-on. But when a medical condition of her own made it too dangerous for her to return to her job in the ER, Magnini was forced to reevaluate her career path.
"I loved working in the medical profession, making a difference and helping people," she said. "So I was determined to get back to this work in some way."
Originally earning her EMT degree from MCC in 2006, she turned to the College's offerings to investigate her options.
"MCC's emergency dispatch program was a perfect fit for me. I could be a first responder again without having to be physically in a healthcare setting."
She joined the program in 2019, studying under instructor Stephanie Erb, a 19-year service professional who teaches the course.
"Stephanie was a great teacher—she previously worked as both a police officer and an emergency dispatcher herself, which really allowed her to provide context and detail the experience from both perspectives. We listened to a lot of 911 calls in class to get a realistic look at what some of the situations could be like."
The class, which runs about 10 weeks, prepares students for a career in emergency dispatch with a thorough overview of call taking, technology, law enforcement, and fire communication, emergency medical dispatching, emergency radios, liability and accountability, crisis intervention, and stress management. The students finish the class by taking the National Communications Certification Exam (NECC) to receive their certification.
"I don't know how someone could get through the certification exam without this course," said Magnini. "The class taught me how to phrase information and identify the most important details for the people who are quickly responding to these emergencies. It's a lot of multitasking."
Magnini encourages future emergency dispatch students to take everything in and keep their minds open. "Submerge yourself in it. Listen to live scanner feeds, practice frequently, and remember that every call is an emergency to the person on the other line. Stay compassionate and calm while getting all the information you need."
Magnini was recently hired by the village of Lake Zurich as a 911 dispatcher.
"We have no doubt Julie will be a great asset to the community of Lake Zurich," said Justin DeBolt, coordinator of career training programs at MCC. "She is a shining example of overcoming personal hardships to achieve her goals. We're so proud to call her a graduate of MCC."
Julie was also the recipient of one of MCC's noncredit scholarships from the Cary Grove Rotary.
"I'm looking forward to getting back to work and helping the community that has given so much to me," she said.
See details about available scholarships at www.mchenry.edu/scholarships.