Amy Belrichard
From CNA to DNP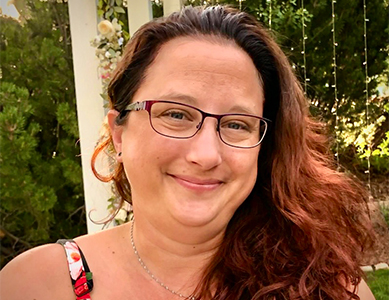 As a Certified School Nurse and Team Lead at Crystal Lake School District 47, Amy Belrichard is used to wearing many hats.
She mentors new school nurses, substitutes in offices when nurses are absent, and writes healthcare plans, 504 plans for students with disabilities, and special education plans for students with other health needs.
"I love helping children and families find care and feel safe at school," she said of her chosen career path. "It's rewarding to ensure children's needs are being met at school so they can receive an education. I also love teaching children, nurses, families, and others about their health. I believe everyone deserves to have the best healthcare possible."
But before she was able to begin the multi-faceted career she loves, Belrichard started her education locally at MCC.
"I attended a private college right out of high school, but found myself coming home every weekend," she said. "Since I grew up in Crystal Lake, my family and I thought it would be better and more cost effective to earn my associate's degree at MCC prior to pursuing my bachelor's degree."
She knew she wanted to pursue nursing, so she took her prerequisite courses in nutrition, anatomy and physiology, chemistry, organic chemistry, psychology, statistics, and English and humanities. After earning her Associate in Science, she transferred to Northern Illinois University (NIU) for her bachelor degree.
"The classes transferred really well," she said. "I was able to meet all of my prerequisites for the nursing program at NIU."
Belrichard earned her bachelor's degree, then later went on to pursue a Master of Nursing in Education at the University of Phoenix so she could become more familiar with the world of educators. She is currently pursuing her Doctor of Nursing Practice (DNP) and Nurse Practitioner Certification in Primary Pediatrics at Rush University and is scheduled to graduate from the program in May 2024.
"I was really proud to get into Rush's Nurse Practitioner program as it is one of the best in the country," she said. "I think MCC helped me with the basic foundation of my career, so I was prepared to advance into a doctoral program."
As part of her doctoral thesis, Belrichard is studying chronic absenteeism in the school setting.
"More and more students with chronic health concerns are missing classes due to their health—but we have also seen a dramatic increase in chronic absenteeism since COVID," she said. "Chronic absenteeism equals about two absences per month, which doesn't seem like a lot, but students with chronic absenteeism in their early education are at a greater likelihood to drop out of high school, meaning that they also have a higher chance of living in low socioeconomic situations and having poor health outcomes in the long run. My hope is that we can teach these kids early in life how to manage their chronic health conditions so they can be at school, graduate, and have more opportunities as an adult."
Belrichard also has dreams of opening a federally funded school-based health clinic in Crystal Lake, as Medicaid providers are currently few and far between.
"While we're seeing increased need, the closest facilities are in Elgin or Woodstock—so for parents with transportation concerns, it's hard to get to a doctor for care," she said. "We also saw more kids using the school health office as a primary care office when their parents lost health insurance during COVID."
When Belrichard worked in Colorado earlier in her career, she noted they had school-based health clinics where students could be seen, treated, and sometimes even return to school the same day, thus decreasing overall absences.
"There is definitely a need for this type of program in our community," she said.
Through the hundreds of patients she's seen over the years, Belrichard says she still uses lessons from those early classes at MCC in her nursing practice.
"The College has expanded a lot since I went there and now has a nursing program on top of their CNA program," she said. "The teachers are very knowledgeable, and the Anatomy and Physiology classroom is one of the best in the area for community colleges. Students can attend full or part-time, with classes offered day and evening, allowing anyone to attend around their schedule. As it has expanded, more options and opportunities are available. I drive by today and am just amazed at how much it has changed and grown. It's very exciting to see!"