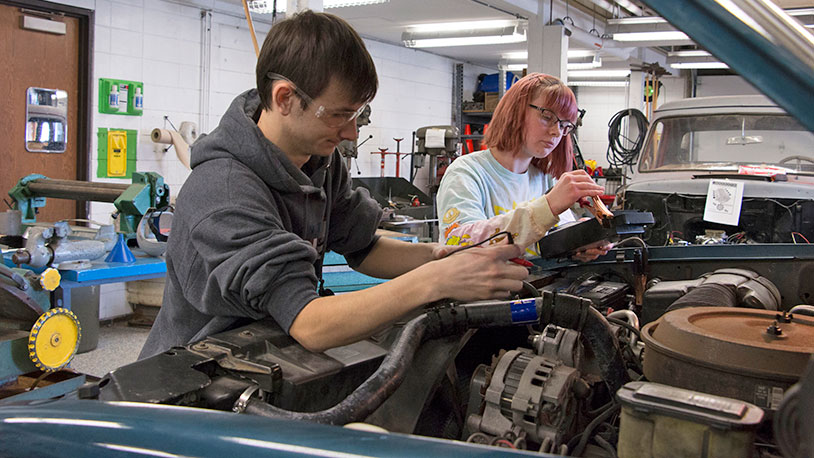 Partnership for College and Career Success Programs
Partnership for College and Career Success programs give you a chance to start working on a professional certificate or associate's degree while you're still in high school. Statistically speaking, that means your job (and salary) prospects will be better when you graduate. Plus, depending on the program, a lot of the classes are at no cost to you!
Partnership for College and Career Success courses can be taken as either articulated credit or dual credit.
Articulated Credit Courses
These courses are taught at your high school, and the credit you earn is "saved" or banked for you at MCC. You're awarded credit after you successfully complete additional coursework at MCC.
When you participate in a dual credit program, you come to MCC during your regular school day to take classes. The credit you earn counts toward your high school graduation requirements, and it also counts as college credit at MCC. These college credits may also transfer to other community colleges and four-year schools. MCC offers these dual credit programs:
---
How do I register for PCCS?
Meet with your high school counselor or home school official and obtain permission to enroll in selected course(s). Remember, you must meet all prerequisites for the course(s).
Complete the Registration Form by typing your answers into the blanks in the form online, printing out the form and then obtaining all the required signatures. Please note—you must completely fill out the Course Selection section of the form and have the proposed course list approved by a high school official. Complete this form each semester you participate in the High School Plus program at MCC.
Submit your completed registration form to your high school counselor. Crystal Lake South students only: send form to McHenry County College, Mike Kennedy, 8900 U.S. Highway 14, Crystal Lake, IL 60012.
If you're taking an English, reading, or math class OR a course that requires one of these as a prerequisite, take your placement tests in the Testing Center at MCC, A245. Tests are given at no charge on a walk-in basis. ACT/SAT scores may be used in lieu of placement tests depending on scores. Your high school counselor or an MCC advisor can give you ACT/SAT score information.
Purchase textbooks in the MCC bookstore.