Campus Art
---
Student Art Exhibition Reception and Awards Presentation on Wednesday, May 4 at 6 p.m. MCC Library
McHenry County College has four galleries on campus with an average of thirty exhibitions per year: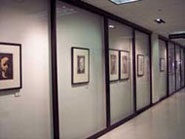 Epping Gallery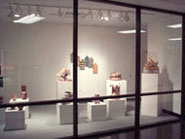 artspace144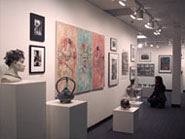 Gallery One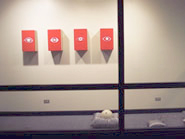 Gallery Two
Gallery exhibitions include works from emerging and established artists from local, regional and national locales. The galleries feature diverse solo and group exhibitions with the intent of exposing students and the community to the wide range of media, styles, and content utilized in contemporary art practice.
Visiting artists often present lectures and workshops in conjunction with exhibitions. The galleries are also used for exhibits of student work and specific course-related installations and projects. Check the gallery exhibit schedule for updates. All galleries are free and open to the public.
In addition to rotating gallery exhibitions, there are numerous selections of permanent and loaned works displayed on campus.
The Permanent Art Collection is displayed throughout the main campus and off-site locations.
The Portrait in Print Collection is on permanent exhibition in the MCC library.
Large-scale sculpture is located in several sites on the MCC campus.
---
Scholarship Opportunity
Each year the Ryan Long Scholarship is offered to art students submitting work to the annual Student Art Exhibit. Please complete the Ryan Long Scholarship Application and include it with your submission to the Student Art Exhibit.
About Ryan Long

Ryan Long was a caring, enthusiastic, and energetic 12-year-old boy, when he was killed tragically in a flash flood in the Summer of 1993. He was a 7th grade student of Olsen Middle School in Woodstock and he was enrolled in the Community Education pottery classes at MCC.

In his memory a memorial fund was established and the first award was given out in the Spring of 1994. The fund has now grown into two individual scholarships per year benefiting promising art students at MCC.

This fund has been sustained through the generosity of many including the MCC pottery students, the MCC Ceramics instructor, and members of the Clayworkers' Guild of Illinois. Each of these groups have given donations of their time, their pottery, and a percentage of the total money earned from the sales of their pottery.

In order to be eligible for this award, an MCC Student must be enrolled in an art class and participate in the MCC Student Art Show at the end of the year. A committee decides by merit the recipient of the award, in the hope that Ryan's legacy of gentle enthusiasm and inspiration through example will continue.
MCC commissioned Richard Hunt in 1991 to create three sculptures to symbolize the growth and development happening in the county. Since that time, Hunt and his sculptures have only grown in popularity.