Current Art Gallery Exhibits
Galleries One and Two
MCC Art and Design Faculty Exhibit
November 13–December 22, 2023
Awards Reception: Wednesday, November 15 from 3:30-4:30 p.m.
Free and open to the public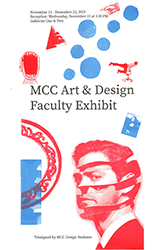 About the Art and Design Faculty Exhibit

The MCC Art and Design Faculty Exhibit is a biennial event showcasing work created by the talented and experienced faculty artists at MCC. Seeing the artwork of faculty members not only highlights their artistic abilities but also their dedication to their craft and their passion for teaching. It allows students to learn from and be inspired by their instructors in a different context, which can enhance their educational experience. The exhibit offers a diverse range of art forms, including painting, drawing, photography, jewelry, ceramics, and sculpture.

Exhibiting faculty members include:
---
Epping Gallery
John Havlik
Drawingcraft
November 13–December 22, 2023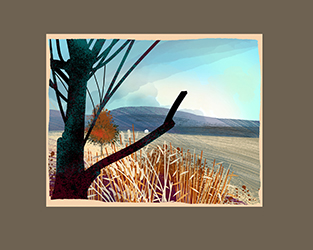 Havlik's Statement

These prints represent several of my deepest interests: the craft of drawing, literature, and the beauty of Southern Illinois. The work was created in Adobe Illustrator on an iMac and using Adobe Fresco on an iPad.

Fundamentally, I agree with Henri Matisse that art can be "a soothing, calming influence on the mind, something like a good armchair." Like that chair and the samplers of the past, these prints are meant to be a comfort and inspiration for everyday life.

About John Havlik

John Havlik was born in Chicago in 1950 and grew up in Pistakee Highlands, IL. He attended Johnsburg Elementary and McHenry High School before graduating with an Associate in Arts from McHenry County College in 1970. Havlik served in the U.S. Army (1972) and received a BA and MFA from Southern Illinois University, Edwardsville (1975 and 1978). He worked as an illustrator and designer in St. Louis (1978) before becoming a Senior Designer at Krannert Center for the Performing Arts, Urbana (1988), and then as an Adjunct Instructor at Parkland College, Champaign (1998). Havlik now lives in Johnson County, Illinois, with his dog Alphie on 33 acres of woodland and meadow, where he manages wildlife habitat.
---
Please email Trevor Power, Gallery Curator, to leave a comment, request information, or be added to the mailing list for upcoming exhibitions.