Joseph Zechman
A High School Equivalency Exam Success Story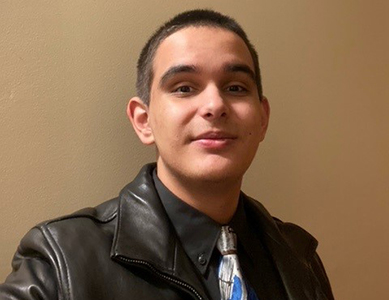 MCC student Joseph Zechman started the High School Equivalency Exam Preparation/General Education Development program in August of 2021.
"I was homeschooled—as was the rest of my family—so my parents always knew there would be extra steps involved for me to receive my diploma," Zechman said. "I knew I would have to eventually take the high school equivalency exam—but I didn't know it would also be in such trying times!"
MCC's HSE program prepares students to take their exams, of which there are four—Mathematical Reasoning, Reasoning Through Language Arts, Social Studies, and Science. While most of the work is done online, the classroom portion of MCC's program gives students one-on-one time to review materials, ask questions, and find resources. 
Bernie Floresca, an Adult Education instructor at MCC who led Joseph's HSE program, was extremely impressed with his dedication from the beginning.
"Throughout the class, Joseph excelled in the self-paced work," Floresca said. "He passed three exams in September alone. Most students aim to finish one exam per term (about four months)."
The HSE program is self-paced based on the student's understanding of the material.
"Students strive for a passing score on each lesson, but they can retake it depending on their confidence in their understanding," Floresca said. "A student could score 90 percent on a certain lesson and want to take the lesson again. Another student could score 60 percent and feel that they understand the topic well enough to take that subject's HSE exam. Joseph worked very hard to finish each of these lessons and displayed a thorough understanding of each topic."
As the year went on, Zechman faced a potential obstacle to his studies as he picked up more hours at his job as a line cook at a local Chili's. The hectic schedule almost forced him to drop in-person classes for the online version. But despite his other commitments, Joseph persisted in his studies.
"I continued to witness his determined consistency throughout the term," Floresca said. "His web submissions came in at various hours of the day and night."  
The last subject, math, was the most challenging for Joseph—and it had double or even triple the lessons of other subjects.
In late November, Zechman found out he had qualified for a voucher that would pay for him to take the last test. But while his request for a voucher was submitted, it didn't arrive before he was ready to take the next exam.  
He wanted to keep going, so he paid for the exam himself—and passed the test with flying colors.
"I knew life was going to get harder," Zechman said of his continued dedication. "And I knew getting my GED would make my future easier—so I had to stay the course."
But the most significant reason he worked so hard?
"I wanted to make my parents proud," he said.
For more on MCC's High School Equivalency Exam Preparation Program, visit www.mchenry.edu/hse.