Vicky Wozniak
2023 Coca-Cola Academic Team Gold Scholar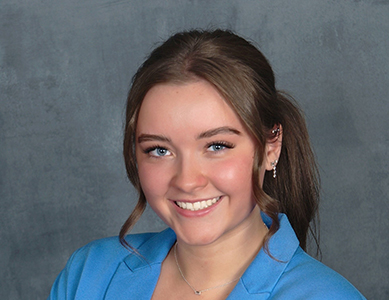 MCC student and Phi Theta Kappa member Vicky Wozniak (Algonquin) was recently named a 2023 Coca-Cola Academic Team Gold Scholar. As part of the award, Wozniak will receive a $1,500 scholarship and will be recognized in several local and statewide ceremonies.
The Coca-Cola Scholars Foundation sponsors the Coca-Cola Academic Team program by recognizing 50 Gold, 50 Silver, and 50 Bronze Scholars with nearly $200,000 in scholarships annually. Students are nominated for the academic team by their college administrators and selected based on academic achievement, leadership, and engagement in college and community service.
"The Coca-Cola Scholars Foundation has a long history of providing financial assistance to outstanding students at community colleges," said Jane Hale Hopkins, President of the Coca-Cola Scholars Foundation. "We are proud to partner with Phi Theta Kappa and make it possible for more deserving students to achieve their educational goals and support tomorrow's leaders of the global community."
Phi Theta Kappa is the premier honor society recognizing the academic achievement of students at associate degree-granting colleges. The Society is made up of more than 3.8 million members and nearly 1,300 chapters in 11 countries. 
Coca-Cola Academic Team members will be recognized internationally during Phi Theta Kappa's annual convention, PTK Catalyst, to be held in Columbus, Ohio April 20-22. 
"We thank the Coca-Cola Scholars Foundation for recognizing these student leaders and for investing in their futures," said Dr. Lynn Tincher-Ladner, President and CEO of Phi Theta Kappa. "Scholarships like these are integral to the success of these students in reaching their educational and career goals."
Wozniak plans to transfer to Colorado State University in the Fall of 2023 to pursue a bachelor's degree in a pre-optometry track. In addition to being the Vice President of Service in MCC's chapter of PTK, Wozniak is active in the "MCC and Me" Mentorship Program as well as the Student Mentoring Program.
"I've had some incredible mentors during my time at MCC from my various extracurriculars that have helped me to succeed academically and professionally," Wozniak said.
After she finishes her undergrad, Wozniak plans to explore options for optometry programs. "But I definitely plan on coming back to MCC for summer classes or activities on campus," she added.
The Chi Upsilon chapter of Phi Theta Kappa at McHenry County College has over 400 members, with over 25 students actively participating each semester. The chapter recently won the Distinguished Chapter Award and Honors in Action Award at the international level, making them the Most Distinguished Chapter in the state of Illinois. PTK advisors Heidi Boring and Anne Humphrey were also named as a Distinguished Officer Team at the international level.
For more information about MCC's chapter of Phi Theta Kappa, visit www.mchenry.edu/PTK.