Edith Sanchez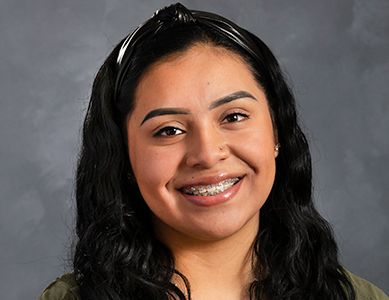 Edith Sanchez isn't letting anything get in the way of her goals.
As the middle of five children and a first-generation Latine, Sanchez is striving to become the first in her family to pursue a professional career. But as she works hard to complete her college coursework, she's also juggling taking care of her siblings, helping with her family's business, and working to help pay some of the bills.
"My parents are two hardworking people who have no formal education but have sacrificed everything to bring the bare necessities to the table," Sanchez said.
Her mother, a factory worker, and her father, who runs the family's small business, struggle with English language and literacy skills. As a result, they often rely on Sanchez and her sister to translate paperwork for the business.
"I'm happy to help out my family in this way, but it's not what I see myself doing for the rest of my life," she said of her decision to attend school. "I have seen first-hand the struggles of my parents to provide a better life for me and my siblings. I want to make my parents proud and be an example to my younger siblings."
The family was challenged again over the past year when their employment was affected by COVID-related shutdowns. Sanchez's mother lost her factory job, and Sanchez herself, who works as a contracted singer across the Chicagoland area, lost many opportunities to perform. The family of seven had to rely on only her father to provide for their family.
"It was really hard to lose those opportunities to perform because I relied on that money for essentials, transportation, and books," she said.
But through these obstacles, Sanchez kept pushing on.
In the Fall of 2020, she received an IME-Becas Scholarship, an award given to improve access and opportunities for Mexicans or persons of Mexican origin living abroad.
"I thought my dream of college would be impossible," she said. "Now, with this financial support, I can pursue my education and focus on the importance of learning. I am so honored and humbled to have received this scholarship—it has motivated me to push myself and encourage others to pursue a professional career. It inspired me to help my community. I hope to one day help others in the same way," she said.
She is currently pursuing her Associate in Arts degree and plans to graduate from MCC in Fall 2022.
"Attending MCC is by far the best decision I've made," she said. "Having grown up in a small town and high school, I knew I wanted to stay in a similar environment for college. I wanted small classroom sizes, where I could know everyone and not be afraid to ask teachers for help. I come from a family of seven, and being able to come home and see my family pushes and motivates me to pursue my dreams."
Sanchez also attributes MCC's free tutoring, clubs, and student support with helping her to have a successful semester.
"It's very clear that MCC's primary goal is to help every student succeed. The staff is very friendly and willing to answer questions. Coming from undocumented parents, being a first-generation Latine, and being the first in my family to pursue a professional career, I know MCC is dedicated to providing continuing education to anyone who seeks it. Knowing their commitment to special groups and populations gives me a sense of comfort. I'm proud to say I attend McHenry County College."
Sanchez was also recently elected Student Trustee for the 2021-2022 school year. The Student Trustee position, which is voted on by students, attends MCC Board meetings to promote the welfare of students, protect student rights, and represent the opinions of students wherever possible.
"I want to help inform students of new opportunities, developments, or resources available to them and encourage them to take an interest in student involvement to build future skills," Sanchez said. "I will work to bring out the best in others (including myself) by ensuring our voices are heard. I am fully committed to listening and seeking feedback from my peers. I want to share the knowledge that I've gained at MCC and be an unbiased trustee who will create a welcoming, diverse environment."
"MCC is fortunate to have a Student Trustee who is committed to her personal success, those of her peers, and the community," added Sonia Reising, Assistant Vice President of Student Affairs at MCC. "Edith's passion is felt and seen in everything she does. She performs with a superior work ethic and the highest level of personal and professional integrity. As a first-generation college student, she is an exceptional role model for other young female students. I look forward to seeing all she will accomplish. I already see her transforming services and the lives of her peers."
In addition to being Student Trustee, Sanchez was nominated as president of Latinos Unidos, a club that promotes educational and cultural awareness of Latine cultures and provides a range of opportunities for all students. Outside of campus, she helps direct both children's and adult choirs at St. Joseph's Catholic Church in Harvard and volunteers at a range of other local events. Sanchez has also inspired her older sisters to return to school after having children at a young age.
After MCC, Sanchez plans to transfer to a four-year university to major in psychology and minor in sociology with the ultimate goal of becoming a college advisor.
"The advisors at MCC inspired me to become a college advisor," she said. "They are devoted to helping students fulfill their potential. In my future career, I want to encourage students to pursue higher education and provide the resources and support they need. I value the power of education, and I believe everyone is entitled to pursue a higher education—no matter their social status. I want to inspire and motivate students by guiding them with my personal experience."