Aaron Anderson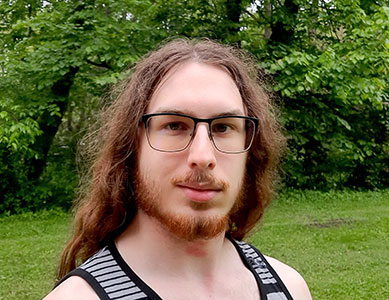 MCC student Aaron Anderson had always been involved in music, but only recently developed an interest in singing.
"I had previously played piano and trumpet," Anderson said. "But when I was picking my classes at MCC, the voice option struck me as intriguing."
Anderson proved to be a quick learner, as evident by his recently secured role-playing Vodnik in Dvořák's Rusalka this summer in Philadelphia at the Academy of Vocal Arts. There, he'll also be studying with vocal coach Luke Housner.
Anderson currently studies voice at MCC with Nancy Shaw and has sung in the MCC Chorus, but this is his first operatic role.
"I wasn't interested in opera until I learned just how cool it is to have a voice that powerful, able to project to a full opera hall without the use of a microphone," Anderson said. "It's what ended up making me choose to pursue this rather than some other form of singing."
Anderson found out about the role from one of his friends, Peter Barber, who is a professional opera singer.
"One of Peter's friends, Luke Housner, needed a bass-baritone for the role I'm playing," Anderson said. "The audition was pretty straightforward. I sent him some of my previous performances, as well as a couple of on-the-spot recordings of my voice."
Anderson has been studying at MCC for three semesters and is working toward a degree in science. He later plans on transferring to a four-year school to study physical therapy.
"Believe it or not, my three semesters at MCC have been my only formal voice training. Without MCC, I'd have had no shot at this. At this time last year, I was a total wreck as a singer," he joked.
For the performance, Anderson and Housner will be working on technique and the pronunciation of Czech words. 
There will be three performances of Rusalka this summer, July 27–29 in Philadelphia.