Michael Norlander
STEM Scholarship Recipient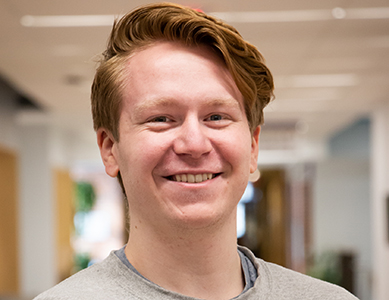 "MCC allowed me to find what I was truly passionate about," says Michael Norlander, a first-generation college student and recent recipient of MCC's High-Impact STEM Scholarship. "My goal is to receive a PhD in physics, then pursue a research position."
The Science, Technology, Engineering, and Math (STEM) Scholarship is a $10,000 needs-based scholarship awarded to students interested in a STEM career. The scholarship is merit-based, and all interested students must submit their high school transcripts, FAFSA, a letter of recommendation, and a 450–600-word essay describing their interest in STEM study and long-term professional goals.
Norlander first started at MCC in the Fall of 2019 and plans to graduate in the Spring of 2022.
"My computer science classes have been a marvelous experience," said Norlander. "Outside of classes, I've also been pursuing some independent research projects with my professors and peers."
Norlander encourages other students to apply for as many scholarships as possible.
"Receiving these scholarships means that I can study without financial stress. Which is pretty huge, honestly. I would tell other students to keep working hard and adapt your high school habits as you transition to college—they may need to be readjusted, especially if you are studying in a STEM field."
Applications for scholarships are due April 1. To view all open scholarships, visit www.mchenry.edu/scholarships.