Marco Gonzalez
Presidential Talent Scholarship Recipient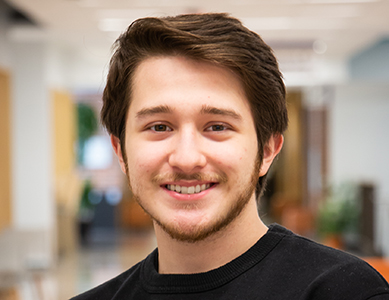 First-generation college student Marco Gonzalez initially planned to attend MCC to stay local and save money to continue his education at a four-year university.
After applying for MCC's High-Impact Scholarships at the encouragement of his high school counselor, Gonzalez learned he was one of the recipients of the prestigious Presidential Talent Scholarship, an award given to five individuals each year based on academic achievement, extracurricular activities, and service. Recipients of the scholarship receive 60 (in-district) credit hours of tuition plus funds to cover any additional fees and books at MCC.
To qualify for the scholarship, high school students must have a 3.6 cumulative GPA or 1300 composite SAT or 28 composite ACT, reside within the boundaries of MCC, enroll in at least 12 credit hours per semester, provide two letters of recommendation, and write a 300–500-word essay.
"Receiving this scholarship has not only helped me financially but has also increased my motivation to do well," Gonzalez said. "The GPA requirement is a factor that has continually motivated me to keep going, and to always give it my best."
Currently in his second semester at MCC, Gonzalez plans to graduate in Spring 2022. He is studying to earn an Associate in Engineering Science and plans to pursue a degree in mechatronics at NIU after MCC.
"I have enjoyed my professors at MCC and their ability to help with questions even beyond the designated times to do so," Gonzalez said.
In addition to his classes, Gonzales is also involved in MCC's Step-Up Leadership Program.
"I would tell current or future MCC students to keep working hard and trying to achieve any and all goals you have," he said. "It may not seem like it at the moment, but the reward and accomplishment of doing so will be well worth it."
"I encourage all students to apply for scholarships," he continued. "There are a variety of scholarships offered, and it doesn't hurt to apply for any of them. It's definitely worth it in the end."
Applications for scholarships are due April 1. To view all open scholarships, visit www.mchenry.edu/scholarships.