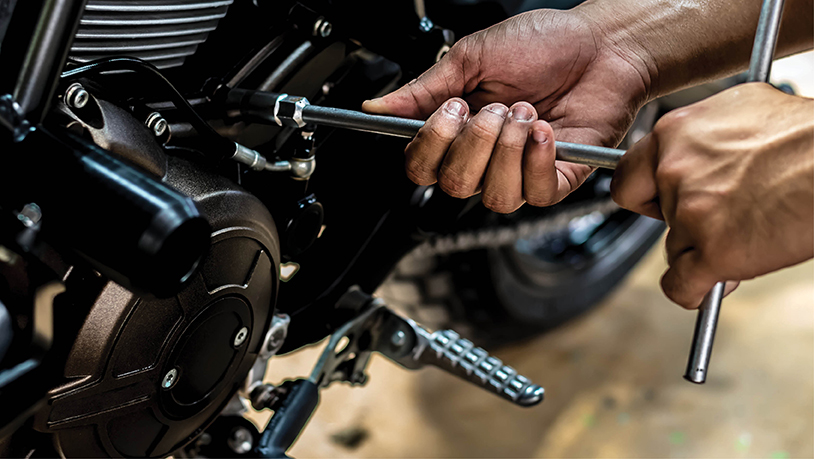 Motorcycle Technician Training Program
In addition to service and repair, today's motorcycle technician is responsible for keeping up with the latest industry technology and providing top-notch customer service.
MCC's motorcycle technician program includes 360 hours of instruction that will blend:
hands-on training 
classroom instruction
job shadow opportunities
Successful completion of this course will prepare you to take the industry-recognized certification exams that employers are looking for in their applicants. Hands-on training is provided under the supervision of master mechanics who work on today's top brands, including, Harley-Davidson, Triumph, and KTM.
This is a noncredit career training certificate program that will prepare you to earn an industry-recognized credential.
Register for Motorcycle Technician Program »
Required Tool List

"F-¼" M Adapter
Set 13 Prohold Ball L-Keys IN
½"F- ⅜"M Adapter
Set 9PC MM Prohold Ball L-Keys
12V ⅜ Drill Kit
13 PC Impact Driver Set
16 OZ AV Ball Peen Hammer
14 PC KS2 MM Combo WR Set 12pt
Dial Caliper 0" – 6"
5 PC Wobble Extension Set
3LB Antivibe Drilling Hammer
44 PC Deluxe Socket Set ¼" Dr
Micrometer 0"-1" Range
50 PC Bit Socket Set
Digital Tire Gauge W/Chuck
9 PC Spark Plug Socket Set
22 Piece ½" SD Socket Set

Pro Super Torch
Digital Multimeter
5 PC ½" Dr Extension Set
25bld Univ Mstr Feeler Gage
44 PC Deluxe Socket Set
5 PC Next Gen Plier Kit SM
5 PC Knurled Extension Set 3/8"
¼" Dr Universal Joint
⅜" Elec TW 100 FT/LB
¼" Drive5 MetalHandle
½" Universal Joint
4 PC 90 Deg Snap Ring Set
½" Drove 18" Mental Handle Flex
15 PC KS2 Combo WR Set 12pt
Universal Joint
8 PC Combo Screwdriver Set
⅜" Drive 13" Comfort Handle Flex
---
Class dates:
January 10–March 30
Monday–Thursday, 8 a.m.–4 p.m.
Course Fee: $3,999 + Tools and Personal Protective Equipment (PPE)
Location:
Midwest Motorcycle Mechanic School
1191 Lake Ave
Woodstock, IL 60098