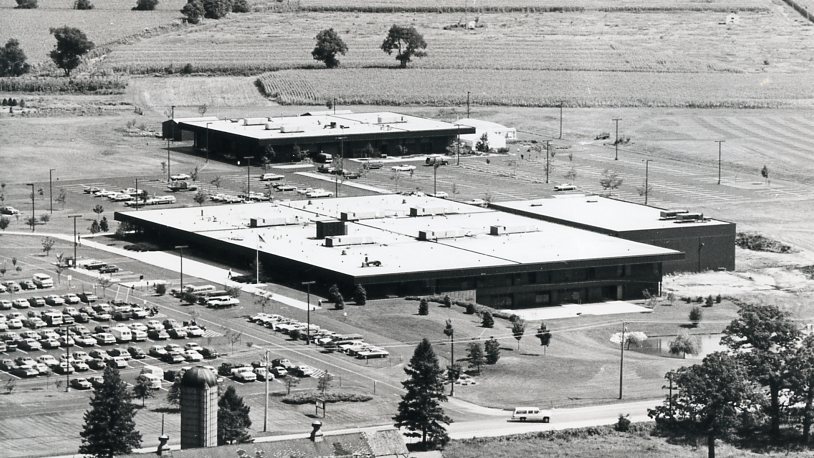 History of MCC
Named among Aspen Institute's top 150 community colleges in the nation, McHenry County College is the county's center for higher education and lifelong learning.
Offering six associate degree programs, applied science degrees designed for career training, and certificate programs, MCC was also ranked fourth in the state for student success rates and affordability by CNN Money and College Measures.
McHenry County College was the 28th community college established in Illinois with the passage of a referendum on April 1, 1967. After 17 months of organizational meetings, the first seven-member Board of Trustees opened the College's doors to 312 full-time and 1,045 part-time students at its original site, a rented oil company laboratory in Crystal Lake.
During the eight years, MCC was located at its original site, the community debated over a permanent campus site. In 1970, a site in the city of McHenry was rejected. However, in December 1971, residents voted to accept the present 68-acre site known as the Weber farm. Building plans were finalized and groundbreaking ceremonies were held on March 10, 1974. In September 1975, MCC occupied the Applied Science building. By May 1976, MCC vacated its original campus and made its move to the Main Hall Building on MCC's new campus. An addition was built in 1980 for the multi-purpose room.
A referendum passed on November 8, 1988, allowed McHenry County College to continue to grow. Construction completed in 1991, which now serves approximately 16,500 students annually, resulted in an addition of 96,000 square feet of Conference Center, offices, dining facilities, Children's Learning Center, and bookstore. The remodeling of Building A was completed in the spring of 1991.
With the 1990 acquisition of 44 additional acres for the College campus, preliminary discussions with the Illinois Community College Board officials regarding a state-funded building began. The building consists of an 8,400-square-foot addition to the library and seven new classrooms, and was completed January 1996.
Recognizing that rapidly changing technology requires the workforce of the future to possess high skills and more education, McHenry County College, in Spring 1997, had completed the construction of a 44,000 square foot Center for Advanced Technology. The structure includes laboratory space for electronics, drafting, computer-aided design, fire science, basic nursing assistant training, criminal justice and other technologies.
In 2003, Building A was expanded and now houses the majority of student services offices as well as the testing center, Sage Learning Center, human resources and the College's Sustainability Center. The College also purchased 40 acres north of the campus and 20 additional acres along Route 14.
In March 2008, trustees voted unanimously to purchase 57 adjacent acres known as the Gilger property. There are no immediate plans to build on this property, but the purchase ensures that MCC will continue to be accessible by Tartan Drive, and it positions us well for Metra's long-range plans of adding a train station on Ridgefield Road.
In 2014, MCC created a new Black Box theater space in Building E to make room for CNC and manufacturing labs in Building D. A cafeteria remodel and Culinary Program lab space was also added. In June 2014, the Illinois Green Economy Network (IGEN) awarded MCC a $250,000 grant to go towards a 91 kW solar photovoltaic installation at MCC's Shah Center in McHenry. The panels were fully operational beginning in December 2014. An array of this size will supply approximately 50 percent of the power needed to run the Shah Center.
In May 2017, the Liebman Science Center Groundbreaking Ceremony was held at the Crystal Lake campus and the opening is expected for Fall 2018. The science center will support existing science programs such as biology, anatomy and physiology, chemistry, earth science, and physics and engineering.
MCC, along with the Illinois Community College system, celebrated its 50th anniversary in 2017.
MCC's satellite facilities include the Shah Center in McHenry, a workforce development and training facility, and the MCC Woodstock Center, which houses our welding program.
Recent degree program additions include Paralegal Studies, Occupational Therapy Assistant, Health Information Technology, and Mobile Design and Development.