MCC's Annual Pottery Workshop
A two-day hands-on ceramics workshop with Carol Long
Schedule of Events
Date: September 27 and 28, 2019 from 10 a.m. to 4:30 p.m.
Fee: $75 for both days, includes lunch
Location: MCC Pottery Studio A145
Create with Us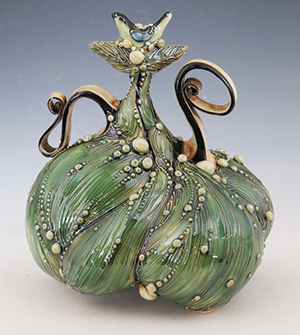 Carol will share her unique design, surface decoration, and glazing techniques while demonstrating how to push the limits of clay by forming simple shapes into intricate sculptural designs. You will work alongside Carol to explore these newly-learned techniques as you create your own masterpiece!
About the Artist
Carol Long is inspired by the world around her and the creatures who inhabit it. Her work continues to evolve as she develops exciting new ways to represent the micro-aspects of nature-the tiny, beautiful, intrinsic qualities of nature that often go unnoticed.
Raised on a farm in Kansas, Carol spent her childhood exploring and building a connection with the plants and animals around her. Carol's mother encouraged her interest in art and her desire to bring her imagination to life, even using the earth itself: as a child, Carol used her father's cattle syringes filled with mud to create designs. Carol's interest in art continued to grow in high school, when she was introduced to ceramics by her teacher, Sheldon Ganstrom, now a prominent Raku artist. She continued to study ceramics at Barton County Community College, and has also studied under Glenda Taylor, Linda Ganstrom, and Steve Dudek.
---
Each fall semester, MCC's art department partners with the Clayworkers' Guild of Illinois and the MCC Clay Club to bring in award-winning ceramic artists to lead a hands-on workshop. We charge a minimal fee for each workshop and open the workshop to the public.
Learn more about our ceramics program.