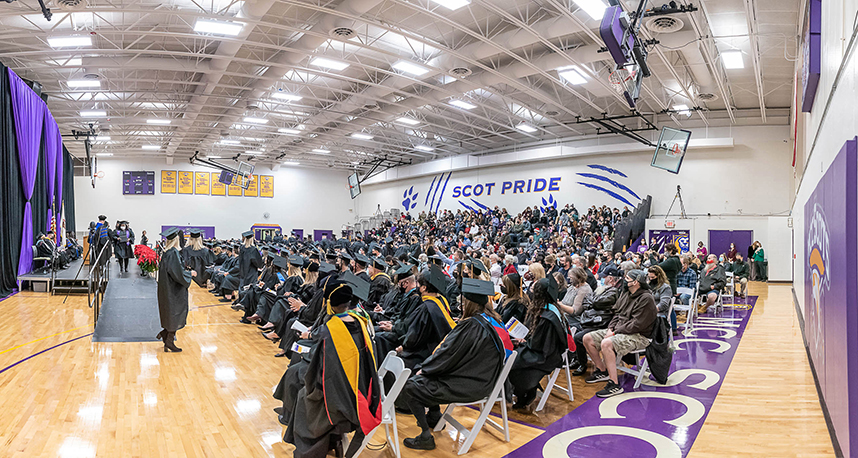 Commencement
Congratulations Graduates!
Commencement is when we celebrate your hard work and dedication. We're proud to recognize your achievements with you and your families. May graduates are invited to attend the Spring 2023 Commencement ceremony held on Saturday, May 13, 2023, at 10 a.m.
Note: To participate in the Spring Commencement ceremony, you must have completed the Graduation Application on myMCC, Self-Service, mark "yes" you will attend the ceremony. Purchase your cap and gown using the link in the application, by April 1.
Getting Ready for the Big Day
Cap, Gown, and Tickets

Your pre-ordered cap and gown will be delivered to MCC and ready for pick-up in the Graduation Hub (Co/Lab B166), Monday-Friday, May 8–12, during regular business hours.

The last day for cap, gown, and ticket pickup is Friday, May 12 by noon
Photo identification is required
Unclaimed guest tickets may be given to other graduates

Graduation Regalia: Caps and gowns are mandatory for the ceremony. Hang your gown before the ceremony to reduce wrinkles. 

Guest Tickets: You may pick up three tickets for guest seating in the Gym when you pick up your cap and gown (tickets will not be mailed). No extra tickets will be available. Overflow seating is available in the Luecht Auditorium (no ticket required).

Commencement Rehearsal

An optional rehearsal will be held on Friday, May 12 at noon in the Gym, where we walk through the commencement ceremony and are available for questions. (You do not need to wear your cap and gown).

The Day of the Ceremony

Graduate Check-in begins at 9 a.m. in the Building B Co-Lab across from the MCC Café. Pick up your name card, along with Honor, Veteran, and Volunteer cords (if applicable).
Guest Seating: Begins at 9 a.m. in the Gym. Tickets are required for guest seating in the Gym during the ceremony. Additional guest seating will be available in the Luecht Auditorium (no ticket required).
Ceremony: Begins promptly at 10 a.m. The ceremony will last approximately one hour. Graduates and guests are expected to remain through the conclusion as a courtesy to other graduates and guests.

Special Needs: If you or a guest, require special assistance (i.e. wheelchair access), contact us at mccstudentaffairs@mchenry.edu. MCC cannot provide wheelchairs but we do offer seating accommodations.

Professional Photography and Videography: Professional photos will be taken of each graduate before and during the ceremony. Empire Photography will email color proofs to your MCC-issued email address, for purchase, within two weeks after graduation.

Complete your contact information for the photographer »

Your Diploma: When you cross the stage, you will receive a diploma cover. Be sure to keep it. Your official degree or certificate will be mailed to you six to eight weeks from the end of the semester if all graduation requirements have been met.

If you have any questions or need further information, contact the Office of Student Affairs at (815) 479-7547 or email mccstudentaffairs@mchenry.edu.
Our graduation partner, Jostens, will mail your official degree or certificate to you six to eight weeks from the end of the semester if all graduation requirements have been met.