Friends of MCC Foundation
Make a difference - join the Friends of MCC Foundation and the community in creating an extraordinary legacy of hope, learning and opportunity. Your involvement positively affects all members of our community and sets a precedent that will impact future generations for years to come.
---
Who benefits from your donations?
A big thank you for contributing to my future!
Scholarship Recipients
2018 Spring Graduates!
---
To date, E2E has awarded $200,000 in scholarships to 25 female MCC students!
---
Buy a Gift, Give a Gift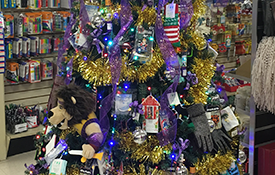 From the Holiday Tree for Success in the MCC Bookstore. All proceeds will be donated to the Friends of MCC Foundation Student Success Fund.
Scholarship applications due October 15.
Thank you Service League of Crystal Lake for your generous gift.
John Adelmann, Jr. Memorial Scholarship
Jeanne Adelmann, donor of the John J. Adelmann, Jr. Memorial Scholarship, and Emily McCullough, scholarship recipient.