Living and studying abroad for Fall semester in Spain!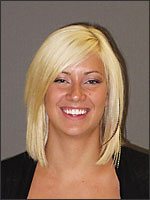 MCC student Kylie O'Halleran of McHenry is taking her Spanish lessons to new levels this fall semester as she studies abroad in Seville, Spain.
She is studying abroad to strengthen her Spanish-speaking skills and to learn the cultures of Spanish-speaking people first-hand.
"I like the cultures of the Spanish-speaking people. They're friendly and willing to talk to new speakers, like me."
This is her second time going to study abroad. She studied abroad during the summer of 2010 in San Jose, Costa Rica.
"After visiting Costa Rica last year for four and a half weeks, I wanted to go (study abroad) for a full semester," she said.
To help pay for her study abroad experience, she received two scholarships, including an International Studies Scholarship from MCC. She is also the first MCC student to receive an Illinois Consortium for International Studies and Programs (ICISP) scholarship.
O'Halleran plans to transfer to a four-year university to major in Spanish. She aspires to become a Spanish professor someday.
She heard about the Study Abroad program from former teacher, Eva Maria Bill. She also credits her Spanish teacher, Lindsay Carson, for inspiring her to continue her studies in Spanish.
"Lindsay Carson has inspired me to do what makes me happy and settle for nothing but the best for myself," "She has been the biggest help with my studies in Spanish and abroad. Greatest professora I know,"

-K. O'Halleran