Judi Cameron, 2020 Full-Time Faculty Member of the Year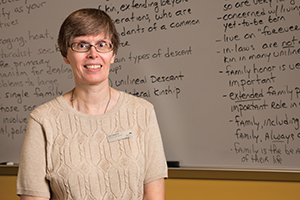 Cameron, a teacher at McHenry County College (MCC) since 2000, was recently recognized as MCC's Full-Time Faculty Member of the Year for 2020. She was also selected as the College's nominee for the Illinois Community College Trustees Association's (ICCTA) 2020 Outstanding Full-Time Faculty Member award. The award recipients, selected by peers, are chosen based on their commitment to teaching, contribution to the college community, and professional development.
Cameron currently teaches Introduction to Anthropology, Archaeology, Cultural Anthropology, and Physical Anthropology at MCC and also serves as the College's liaison for the Archaeology Field School run by Midwest Archaeological Services of Crystal Lake.
"My goal is to make my students better citizens of the global community," Cameron said. "Educating them about the cultural diversity that exists in the world helps them understand and appreciate that diversity—not judge it."
After earning her Ph.D. from Arizona State University in 1995, Cameron spent the first 10 years of her career working as a laboratory analyst for archaeological businesses while maintaining a part-time position as an instructor for a number of schools, including community colleges, in the Chicagoland area. While she very much enjoyed the research aspect of the field, as she reflected on her own experience as a first-generation, non-traditional student at a community college, she felt called to pursue teaching full-time.
"When I began teaching at MCC, I was still using chalk and a chalkboard," Cameron said. "But thanks to the advent of new technologies, I can not only supplement my presentations with PowerPoints and YouTube videos, I can take my students on virtual visits to museums, other colleges, and archaeological and fossil sites to help them visualize so much more than I could in the beginning."
Cameron prioritizes the ability to continually evolve her teaching strategies to match her students' changing needs and learning styles.
"I like to incorporate a variety of hands-on exercises to engage students," she said. "In Physical Anthropology, we conduct a forensic anthropology simulation where groups of students are given a box of plastic casts that mimic human remains and are asked to use those to identify basic features such as age, sex, stature, and ancestry. In the Introduction to Anthropology classes, I hand out casts of fossil human skulls for students to identify. I'll also share examples of stone tools and fragments of pottery and ask the students to determine what artifact types they have."
A few of Cameron's students have also gone on to pursue higher degrees and jobs in the field. One former student is the laboratory coordinator at a university in Denver and recently participated in the laboratory analyses of a major fossil find, Homo naledi, in South Africa. Another student is using what she learned in cultural anthropology and applying it in her graduate degree program for environmental policy.
"I have had the honor of witnessing many students overcome obstacles, successfully graduate and move on to the next stage of their life. I've watched single parents, student veterans who were dealing with service-related issues, first generation students, students who juggled full-time jobs and their education, and many others, complete their education here at MCC. I am so proud of them all."
In addition to her Ph.D. in Anthropology from Arizona State, Cameron received her Associate in Arts from North Iowa Area Community College; a B.A. in Anthropology and Ancient Civilizations from the University of Iowa; and M.A. in Anthropology from the University of Illinois at Urbana-Champaign.