Amy Ortiz Inspires Students to Appreciate Art's Influence in Society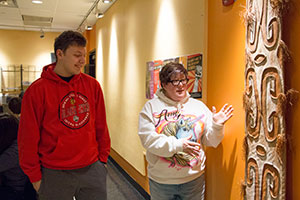 "What isn't cool about art history?" wonders MCC art history instructor Amy Ortiz. Granted, she could be a little biased, but in her humble opinion, "It's the most fascinating subject about people and processes and how we visualize and preserve history on canvas, in performance and in the environment."
Ortiz has been teaching art history full time at MCC for eight years and said she loves to watch a student who may be skeptical about art history transform into someone who enjoys visiting art museums and learning about artists and their work.
Her favorite aspect of art history is storytelling. "It's the best storytelling we have on sex, death and rock and roll," she said. "It's connecting artists with the world."
In addition to sharing information about artists' lives and work, she incorporates art processes in the classroom so students know how a particular work is made. Students have worked on renditions of Dutch Still Life and recreating famous musical performances like Cabaret Voltaire.
Her interest in art stems from her childhood days when she played Masterpiece, a board game where players participate in auctions for famous works of art. It wasn't until college that she took her first art class and decided to make art a career.
"I realized I can do this. I paint, but I didn't want to be a working artist. I like the storytelling aspect and it seemed to be a perfect fit—I could be around beautiful works of art—like Van Goghs—that I could never afford and talk about them with other people."
A community college graduate, Ortiz earned a Bachelor of Fine Arts and Master of Arts from the School of the Art Institute in Chicago and her Ph.D. from the University of Wisconsin-Madison