Terttu Uibopuu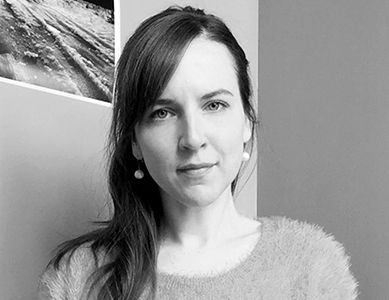 After earning her GED from MCC in 2003, Uibopuu started visiting the photography darkroom as a continuing education student. "I found that I really loved being a part of the community there," she said. "It was so alive and fun. My professors—Art Hand, Bill Neef, and all the lab techs—created a super loving and supportive group."
Uibopuu took a variety of classes at MCC from 2003-2005 with the ultimate goal of transferring to Columbia College of Chicago.
"I have so many good memories of MCC," she said, reflecting on her time at the College. "I remember when we all got hooked on Holga cameras and cross-processing. Then there was a big infrared film obsession—the whole darkroom community would just get giddy and excited—and then experience this huge drive to keep experimenting."
Art Hand's studio lighting class was also transformative and memorable, she noted. "We had so many photoshoots where we would model and take pictures or just enjoy helping each other. I also remember a lot of music—being the DJ during open lab hours was a great honor. We would all just get down and dance and sing to Gunther, Johnny Cash, Peaches, or whoever was a big name at the time. Photography was my whole world then."
Uibopuu transferred to Columbia College of Chicago in 2005 and earned her Bachelor of Fine Arts (BFA) in Photography in 2008.
"My community at MCC taught me to have a good attitude and value close friendships. That was something I carried over to my studies at Columbia, which was also an incredibly positive experience."
After finishing her studies at Columbia, she received a full-ride scholarship to Yale University in 2009 and earned her Master of Fine Arts (MFA) in photography in 2011.
Terttu recently revisited her MCC roots by participating in the Prints for Hunger Campaign organized by MCC professor Justin Schmitz and his colleague Marzena Abrahamik. The campaign—through which a group of artists sold their prints for a $100 donation—raised more than $48,000 for the Greater Chicago Food Depository in Spring of 2020. Uibopuu donated her photo "Tomatoes (2014)," to the project.
"It was so great to participate in a cause where all the proceeds went directly to the Greater Chicago Food Depository," she said. "There was no middle man or administration that took a cut from the donations. It was such a beautiful way for artists to come together in such a short amount of time. It goes to show that it doesn't necessarily take a lot to help each other and make a significant difference in your community."
Uibopuu currently resides in New York City, where she has her own photography practice. In addition to her practice, she is a full-time assistant photography professor at the Borough of Manhattan Community College. She has received numerous awards and scholarships including "Artist in the Marketplace" from the Bronx Museum of the Arts and "Curator's Choice/Artist to Watch" from the Chicago Art Open, and has had her work featured in a variety of shows all across the country.  
"Photography has allowed me to be a weirdo and meet people I wouldn't otherwise have the chance to if I didn't have a camera with me," she said of her chosen career path. "I would encourage fellow MCC students to always be curious and be willing to learn from your peers—make genuine friends, and always share your knowledge."
A selection of Uibopuu's work can be viewed at www.terttuphoto.com.