Olivia Jensen
Alumni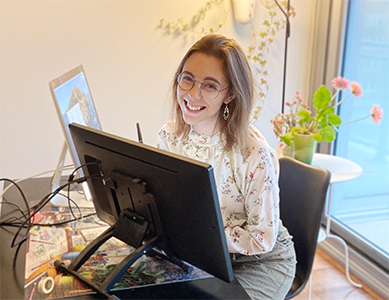 Olivia Jensen always knew she wanted to be an artist. But it wasn't until right before starting college that the Prairie Ridge High School graduate realized the specific track she wanted to pursue was animation.
"I knew if I wanted to get a degree and work in animation, I had to go to a school with a reputable animation program. But unfortunately, I didn't have the funds to attend a four-year university right out of high school," said Jensen. "Luckily, MCC was there for me."
Jensen started at McHenry County College (MCC) in 2014 to pursue her Associate in Arts (AA).
"The College ended up being a perfect fit for me. I was able to get my feet wet with animation before diving in head-first at a university," said Jensen. "I remember being so happy that MCC offered a class in 2D animation. This class allowed me to get hands-on with animation and helped confirm it was what I wanted to study. I'm so incredibly grateful the College offered it."
In addition to laying the groundwork for her future in animation, Jensen participated in many extracurricular activities during her time at MCC. She joined the Black Box Theater program, acting in two plays; was on the Speech Team; and was part of the Phi Theta Kappa Honor Society for two years, during one of which she served as the vice president of public relations for the MCC chapter.
"All of these activities made my MCC experience unforgettable," said Jensen. "I remember leaving high school and feeling conflicted about not being able to attend a four-year university right away like everyone around me. But once I discovered all the things MCC had to offer, I had a great college experience there. I made the most of my two years, and formed a lot of lasting friendships along the way."
Jensen encourages current or future MCC students to get involved as well. "Try not to be someone who just shows up to class then goes home—get involved in extracurriculars, hang out in the café or library, form friendships with your peers—all of these things made MCC feel like home to me."
After graduating with her Associate in Arts from MCC in 2016, Jensen successfully transferred to DePaul's prestigious animation school to pursue her bachelor's degree.
"When I was planning my transfer, I looked at the classes that DePaul required in the first two years, and realized I had earned all those credits at MCC. DePaul even had a program called the "DePaul Admission Partnership Program" (DAPP) where they partnered with community colleges to help with transferring.  I ended up getting a scholarship through them as well as through Phi Theta Kappa. The transfer process went very smoothly."
Jensen now works as a full-time technical artist for Stern Pinball where she does work with animation, motion graphics, and storyboards.
"The best part about having a career in animation is that I get to do what I love every day by drawing and creating. But the most rewarding part always is seeing people's reactions to my work or projects I've worked on. Hearing how people relate to my work and feel an emotional connection to something I created is the best feeling in the world."
One of her latest films, "Waiting by the Phone," was recently featured in the National Film Festival for Talented Youth as well as the Detroit International Festival of Animation. Jensen wrote and animated the production as one of the requirements for her degree at DePaul, but refined it even further after graduation.  
"The film is inspired by loss and grief, and by the small sentimental attachments one can have to things in their daily lives," she said. "I wanted to make a film that approached this subject in a simple, elegant way showing that raw, emotional stories can be told through animation. I hope that people who watch it can connect with it in some way, see themselves in it, and feel all the love that went into every frame of drawing it."  
"Waiting by the Phone" and more of Jensen's work can be viewed online for free at www.vimeo.com/oliviajensen.