Liz Angeles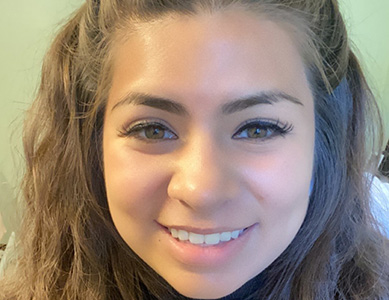 Liz Angeles will be starting her second year at Lake Forest College (LFC) in the fall. But before she was a student at the four-year school, she got her start learning some crucial skills at MCC.
"As a first-generation college student, the transition to college after high school was difficult for me," she said. "MCC was affordable and allowed me to discover what I truly wanted to major in."
Angeles attended MCC from the Fall of 2019 to the Summer of 2020 before transferring to Lake Forest in the Fall of 2020. During her time at MCC, she was a member of Latinos Unidos, the Phi Theta Kappa Honor Society, and the mentorship program.
"My mentor, Diana Ortiz Dominguez, helped me navigate my first year of college and always checked up on my progress," Angeles said. "I also appreciated the variety of events MCC hosted—whether it was hot cocoa in the cafeteria or snow cones during the first weeks of the semester to help meet new people. I also liked the workshops hosted by Melissa Sanchez. They were enlightening and worth attending."
"I had the privilege of being Liz's mentor during her first year at MCC," added Dominguez. "During that short amount of time, I saw her passion and dedication to always doing her best. She was so easy to work with and very talented."
Angeles initially wanted to major in the field of science—but over time realized she really enjoyed business.
"I wanted to major in an area that focused on both quantitative and qualitative skills. My courses at MCC helped me discover those preferences," she said.
Angeles' work ethic and core skills also grew at MCC, as many of her courses required frequent public speaking, the use of Microsoft Excel, and the ability to write extensive reports using supporting data.
As she finished up at MCC and began to consider her future options, she discovered Lake Forest College.
"I knew I didn't want to get lost in a huge lecture room," Angeles says of her decision to attend LFC. "I liked how their small class sizes aligned with the classes I was accustomed to at MCC. I wanted an individualized experience where I could connect with my peers and professors."
She added that Lake Forest also had a high success rate in helping their students find a job in their field following graduation.
"Before transferring, I thought the process would honestly be a hassle," she said. "But the admissions team kept in touch with me and made sure that I was on track. They went through my MCC transcript and future classes to ensure my courses would transfer. Lake Forest also offered a generous scholarship to Phi Theta Kappa members (between $20,000–$25,000) which was helpful to me from a financial perspective."
Lake Forest is one of nearly 30 schools with which MCC has established a guaranteed transfer agreement. The agreements provide special opportunities for students ranging from program-to-program articulation agreements to scholarship opportunities.
"The professors at Lake Forest genuinely want to see you succeed," Angeles said. "I can personally attest to professors vouching for me and using their connections to help me get where I want to go after graduation."
One of those connections led to Angeles starting an internship at the Federal Reserve Bank of Chicago this summer.
"I did well in one of my business courses during my first semester, and my professor reached out to me with an interest in being my mentor. They also suggested I apply to a position at the Fed. I never imagined that I would be interning at the Federal Reserve Bank of Chicago, but it just goes to show how the professors at LFC see potential in their students and go the extra step to make sure that they succeed."
Angeles currently interns in the Statistics department where she assists in special projects, analyzes structure and monetary/call reports, ensures the integrity of financial institutions' structure reports, and runs queries to ensure data accuracy and compliance with reporting requirements.
"I'm not totally sure what types of positions I'll be interested in once I graduate, but the idea of being a financial analyst catches my attention—as does investing in the stock market. I hope that once my summer internship is over, I'll have a better idea of what career I would like to pursue," Angeles said.
For more about MCC's transfer agreements, visit: www.mchenry.edu/transfer.