MCC is the grateful recipient of a 9.7 acre parcel of grassland and wetland in Chemung for use as a field and outdoor laboratory site.
The land includes a vegetation-lined creek and now serves as an outdoor field and educational laboratory used by MCC's Earth Sciences, Biology and Horticulture departments. Biology students are now able to study ecosystems in their natural environment, and astronomy students have night viewing opportunities with minimal light pollution, to name a few of the various ways the land is being used.
Other educational uses by MCC faculty and students include:
mesic prairie restoration
stream water and soil sample testing
identification and study of native aquatic plants, insects and animals
controlled burns for fire science students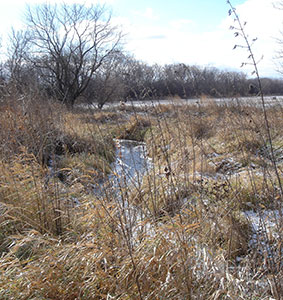 Prairie Updates
On Sunday, December 7, 9 MCC students, 14 MCC employees and 5 community members volunteered to spread native prairie seed on 6 acres of the agricultural land. The restoration of native prairie is part of the plan to develop a Field and Outdoor Laboratory Site on land that was donated to the College in 2013. Native seeds are usually planted in the late fall or early spring as exposure to winter conditions is often necessary for germination. The area to be seeded was divided into 16 plots, and the seed was divided into 16 bags. Volunteers spread the seed from one bag on one plot, trying to spread the seed over the entire area. After the seeds were spread, we walked over the area to press the seeds into the soil. Rain on Monday was the perfect follow-up!
The prairie seeds, some of which were very tiny, were mixed with winter wheat to help spread the seeds evenly and provide a cover crop for the first year when native plant growth tends to be mostly below ground. Next summer the restoration area will be mowed to prevent annual weeds from going to seed. We should start seeing the native plants in the summer of 2016.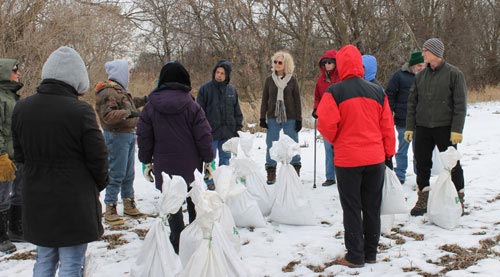 Caron Wenzel of Blazing Star Nursery instructs volunteers in how to spread seed.