Green Campus Initiatives
The Liebman Science Center is working toward LEED Certification
Check out what's happening with our new Liebman Science Center! The College's newest facility opened for classes in Fall 2018. See what efforts are in place to pursue LEED Certification.
---
In June 2014, the Illinois Green Economy Network (IGEN) awarded MCC a $250,000 grant to go towards a 91 kW solar photovoltaic installation at MCC's Shah Center in McHenry. The panels were fully operational beginning in December 2014.
There are 336 panels, including four teaching panels. An array of this size will supply approximately 50 percent of the power needed to run the Shah Center while providing the citizens of McHenry County with an estimated annual CO2 reduction of 75 tons per year.
Instructors for MCC's Energy Resources class, which has an entire unit on solar energy, are incorporating the array into coursework. Several other classes in the Earth Science Department have also been using the array, and a lab class using the array is under development for the Energy Resources class.
A partnership is in place with the Midwest Renewable Energy Association (MREA) to provide non-credit classes to those who may be looking to add the solar skill set to their existing roles in the construction, electric, sales and design industries. The following classes will begin August 2015 at the Shah center:
Basic Photovoltaic
Photovoltaic Site Assessor Training and certificate
Photovoltaic System Design
Photovoltaic Design and Sales
Photovoltaic Sales and Finance
All of these classes can be applied toward the NABCEP—PV Installation Professional Certification, which is required for all solar installers in Illinois.
---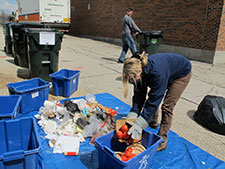 The US Environmental Protection Agency combed through two days of all the garbage from the kitchen, commons and culinary areas. EPA Staff sorted it into bins (food, plastic, paper, glass and garbage) and weighed it all. They provide MCC with baseline data so we can begin to understand what's in our waste stream and explore ways to reduce certain portions.
McHenry County College Fire Science and Biology students are working with the McHenry County Conservation District to get hands-on training with collaborative prairie restoration efforts.

MCC featured in SEED: Sustainability Education & Economic Development
92% of construction waste was diverted from the landfill from the debris generated during building demolition.
84% of construction waste was diverted after demolition from general construction debris throughout the project.
Combined total construction debris equaled 701.17 tons, 641.57 tons was recycled, 59.6 tons was landfill. Overall, we recycled 91% of construction debris for the total project. 
We sell our fryer grease to a company that makes biofuels.
Our kitchen appliances are ENERGY STAR high-efficiency appliances
We're very particular about out our take-away items:

Enviroware® Plates are made from 21.8% pre-consumer wastes without dyes or pigments and derived from 100% annually renewable resources, mainly plant sugars from field corn.
Greenware Cups® use resin from domestically grown, annually renewable plants instead of oil and they're 100% compostable
Earth Choice™ soup cups are made from a natural plastic material that is a 100% annually renewable resource derived solely from plants.
Planglow To-go Boxes are 100% biodegradable and compostable, even the clear windows of the packaging are made from a material derived from plants, not oil.
Utensils are biodegradable and recyclable
Stirrers are made from bamboo, a sustainable and renewable crop
Our MCC bookstore carries a variety of sustainable items.
Bamboo bookmarks
Notebooks made from recycled materials including one made from sugar cane fiber!
Pencils made from unpainted wood from well-managed forests as certified by the Forestry Council
Scotch ® tape made from over 75% recycled or plant based materials
B2P (Bottle to Pen) pens made from 89% recycled content
Smencil markers – made from 100% recycled newspapers and plastic.
Lighting is a critical component of every small business. Employees must be able to see to perform their jobs. Lighting accounts for 20% to 50% of electricity consumption. In the summer of 2011, MCC replaced 400 mercury vapor lights with T8 fluorescents and old T12 fixtures with T8 fluorescents. T8 fluorescents are much more energy efficient and will last quite a bit longer.
So far, we've installed seven water bottle filling stations on campus allowing MCC to divert more than 31,000 water bottles from landfills.
Several student clubs have adopted drinking fountains and paid for special filters to improve the taste of the water.
Each classroom and office has recycling containers for paper, plastic and aluminum, resulting in a more than 35% recycling rate.