Forefront: Ideas in Food and Farming
To celebrate the launch of MCC's new Center for Agrarian Learning, we're bringing you innovative thinkers (and doers!) in the food and farm economy like Ben Hartman; Rod Ofte; Erin Meyer, Rachel Bernier-Green, and Andy Hazzard; and Lisa Kivirist. With Forefront: Ideas in Food and Farming, we're showcasing entrepreneurs who are solving problems with their passion and skills and sharing the how and the why of it all. Ideas abound and strategies are tried and tested as all are motivated to experiment and think outside the box.
This speaker series is intended for farmers, land owners, chefs, local food enthusiasts, and anyone interested in the food economy. Come get informed and inspired the fourth Sunday of each month, January – April. All Forefront sessions will be held in the Luecht Auditorium at McHenry County College in Crystal Lake.
Rotational Grazing: Improve Soil Health and the Farm's Bottom Line

Rod Ofte, Willow Creek Ranch
Sunday, February 23
2 p.m., Free but registration required
Finishing cattle on grass can allow a producer to capture a market premium from consumers looking for the human health benefits of grass-fed beef. In this engaging session, Rod Ofte will talk about how rotational grazing has impacted his farm in many positive ways. His transition from a conventional dairy farm to rotational grazing beef cattle opened up new marketing opportunities that allow him to capture a higher price while benefiting his farm's soil health.
Rotational grazing involves moving cattle to new paddocks and allowing grasses and soil to rest for at least 30 days, resulting in animals with stronger immune systems and higher total production. Join Rod as he shares his journey and offers tips for maximizing your farm's productivity and marketing your end product, all while being a better long-term steward of your land, improving water quality, and making a positive impact on wildlife habitats.
Register for Rotational Grazing: Improve Soil Health and the Farm's Bottom Line
---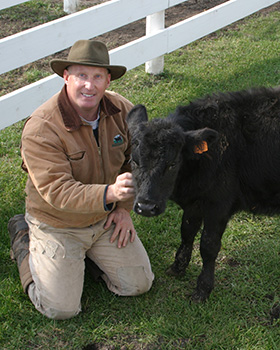 Speaker
Rod Ofte
Rod is a fourth-generation rancher who operates Willow Creek Ranch, a rotational grazing operation on 400 acres near Coon Valley, Wisconsin. He has about 30 cow-calf pairs and grass finishes the beef that he sells direct to consumers and to the Wisconsin Grass-fed Beef Cooperative. He also raises pastured pork and range-free layers.
He holds a Bachelor of Science from the United States Military Academy at West Point, New York and an MBA from Boston University. He has more than 25 years of experience in the food industry, including time working in Europe, the Middle East, and Asia. He is the president of Norse Group Consulting, and has been the general manager of the Wisconsin Grass-fed Beef Cooperative since its inception in 2008.
Future Forefront Sessions
March 29: Whole Grain Revolution

Sunday, March 29, Erin Meyer, Rachel Bernier-Green, and Andy Hazzard

2 p.m., Free but registration required

Join moderator Erin Meyer of Basil's Harvest as she sets the stage for a baker, farmer, and dietitian to discuss their personal experiences working with and growing specific grains, explore the challenges they face doing so, and share how they came together through the Artisan Grain Collaborative.

Learn details about each business—Rachel Bernier-Green's innovative and socially-minded bakery 'Laine's Bake Shop in Chicago; Andy Hazzard's sixth-generation Hazzard Free Farm (and mill!) in Pecatonica; Erin Meyer's diet-conscious Basil's Harvest; and their combined work with the Artisan Grain Collaborative. You'll come away with a better understanding of the important relationship between farmer and baker, and about how the practices around regenerative agriculture and whole grains can improve soil health, human health, and impact local economies.

April 26: Soil Sisters: How Women Transform Our Food System

Sunday, April 26, Lisa Kivirist, author of Soil Sisters: A Toolkit for Women Farmers along with Homemade for Sale, Farmstead Chef, Rural Renaissance and ECOpreneuring.

2 p.m., Free but registration required

What's the key ingredient to healthy communities? Women leading food system change. Women make up one of the fastest growing segments of new farmers today, and they come from a long and deep history and tradition of cultivating the soil. This fresh crop of women farmers is finding innovative ways to champion local agriculture and foster greater collaboration and cooperation. Collectively, they improve the health of our environment, stimulate the economy, build a greater sense of community, and nurture a more vibrant food system. What does our future hold and how can we support more women taking on leadership roles to change what's on our plate? Come celebrate the historic roots and inspiring stories of women farmers today — and in the future.

Following Lisa's presentation, we'll hear from three farmers, each with different challenges and successes linked to their location, product mix, experience level, identity, and pathway into farming.