Permanent Art Collection
The permanent art collection includes works which have been purchased from gallery artists, current MCC students and alumni by the college and the Friends of McHenry County College Foundation. Works donated to the Foundation also become part of the permanent collection. The collection is constantly growing and evolving with continued additions of new acquisitions and donations.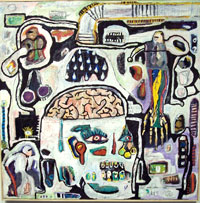 Zack Goulet
Killtime Pipeline
Oil on canvas, 22 x 22
Permanent Art Collection
MCC Student Art Exhibition 2006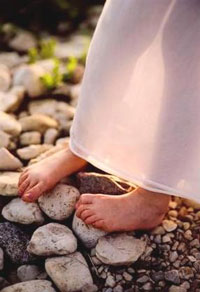 Angela Swan
Color
Digital Print, 22" x 30"
Permanent Art Collection
MCC Student Art Exhibition 2005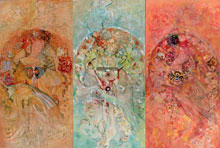 Gloria Stewart
After Alphonse Mucha II
Acrylic, 48 x 24 x 1
Permanent Art Collection
Skyway Juried Art Competition 2006
---
Sculpture at MCC
Orion, Orion II by Isaac Witkin
Steel, 102 x 78 x 78, 1980
Located in the Zen Garden (Building A courtyard)
Trilogy: Growth, Development, Interaction by Richard Hunt
Welded stainless steel, 1994
Funds provided by McHenry County College Foundation and the Illinois Arts Council
Located on the grounds of MCC, Entrance One
Stretcher by Patrick McDonald
Wood, steel, concrete, 22 x 12 x 4, 1998
Located on the grounds of MCC, Building A
Opportunity Knocks by Michael Helbing
Corten steel, 10 x 15 x 15, 1998
Located on the grounds of MCC, Building C
Homage to the Earth by Glenn Zweygardt
Granite, bronze, steel, cast glass, 12 x 3 x 3, 1998
Located on the grounds of MCC, Building E
Sunrizon by Tom Scarff
Aluminum, neon, variable dimensions, 2002
Funds provided by State of Illinois and Friends of McHenry County College Foundation
Located in the Atrium of the MCC Student Services Building
Portrait in Print Collection
MCC Library
"The versatility of the print", says Fritz Eichenberg, is inexhaustible. It may cover any aspect of human life - social, political, technological, spiritual, esthetic … Prints have changed the course of history. They have worked for peace or war, for God or the Devil…championed student rebellions and peasant uprisings … fought slavery and corruption … From a rather humble beginning as a religious keepsake or a penny leaflet, (prints) have soared to the heights."
- Fritz Eichenberg
A gift to the Friends of McHenry County College Foundation from Mary and Charles Liebman, The Portrait in Print Collection consists of over 250 fine art prints and includes a wide range of printmaking techniques - etching, intaglio, lithography, woodcut and serigraphy. Through the portrait, the collection provides an outstanding visual record and commemoration of playwrights and poets, humanitarians and philosophers, musicians and composers, artists in the visual and performing arts realm and many others who have left an imprint on history. Among portrait subjects included in the collection are Abraham Lincoln, Walt Whitman, Gertrude Stein, Dr. Martin Luther King, Jr., Crazy Horse, Mick Jagger and Madame Marie Curie, the Marquis de Sade, Emiliano Zapata. The range of artists who created these prints is as diverse and impressive as the subjects of the portraits. Renowned artists in the collection include Pablo Picasso, Henri Matisse, Man Ray, Marc Chagall, Francis Bacon, Leonard Baskin, Andy Warhol, and Diego Rivera, among many others. In addition to the visual enrichment of the campus provided by these works of art, the Portrait in Print Collection is also utilized as a significant resource for students, college faculty and staff and the community at large and is on permanent exhibition in the MCC Library.
---
James Whistler
Charles Drouet (1836-1908)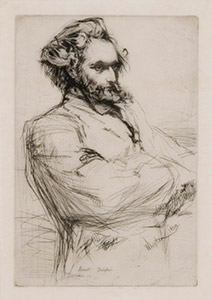 Taiso Yoshitoshi
Maebara Isuke Tobe No Munefusa