Art-o-mat
What is an Art-o-mat?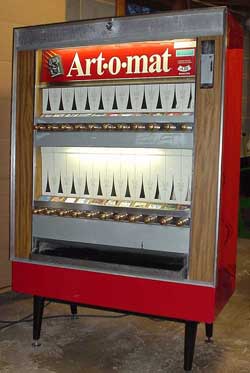 The Art-o-mat should be viewed as an art installation and is created from the ground up "as art" for a specific host venue. An Art-o-mat is a retired cigarette machine that has been painstakingly refurbished and modified to dispense art on a cigarette pack size block or in a cigarette pack size box. It is the brainchild and art project extraordinaire of Clark Whittington of Winston-Salem, North Carolina, who founded A.I.C. – Artists in Cellophane in 1997. There are about 74 active machines in museums, libraries, cafes, and other venues in various locations throughout the United States and one in England. The art that is stocked in these machines is supplied by over 400 artists in 10 countries with over 15,000 pieces of art being sold through this vending machine network since 1997. A.I.C. donates a portion of profits to arts-related charities.
The mission of A.I.C. is to encourage art consumption by expanding access to artists' work through the combination of the worlds of art and commerce in an innovative form that allows art to be simultaneously progressive, personal and approachable. A.I.C. has created an opportunity to purchase original artwork while providing exposure and promotional support for artists by converting retired cigarette vending machines into functional sculptures that vend original works of art. Local artists, including MCC students, are encouraged to submit work through the submission process on www.artomat.org.
Tokens must be used in the Art-o-mat machine to purchase artwork. Tokens are $5 and can be purchased in A144 (Art Department office). The Art-o-mat is located in Building A, across from A144.
Funds for the Art-o-mat were generously provided by the Friends of McHenry County College Foundation.