Art Faculty - Susan Sieber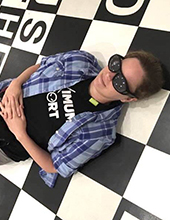 Susan Sieber is an artist and arts educator, working with both digital and traditional media. She received her BA from Beloit College, and her MFA in Illustration from Academy of Art University - San Francisco. She studied art and architecture in Morocco, as well as calligraphy and fiber art in Japan. Susan has participated in solo and group exhibitions, creates interactive mural art for various organizations, and does freelance art and graphic design. Susan has been named an Illinois Artisan by the Illinois State Museum Artisan Program, and was 2014 MCC Adjunct Faculty of the Year. She is also Director of Development and teaches art workshops at the nonprofit art studio Creative Arts Inc. in Crystal Lake.
See Susan's artwork at www.instagram.com/sieber.susan
Susan teaches graphic design at MCC.
Learn more: voyagechicago.com/interview/meet-susan-sieber-creative-arts-studio-northwest-suburbs-crystal-lake