Art Faculty - Mary Scherer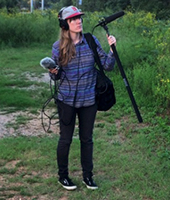 Mary Scherer received an MFA in Film, Video New Media, and Animation from the School of the Art Institute in 2013. Prior to that, she received her BFA in Photography, Film, and Electronic Media from the University of Illinois at Chicago. Her work centers on understanding the tension between the variety and repetition of life, grief, and loss, and using personal narratives through interviews and mail-in projects.
Scherer's video art and documentary films have been exhibited and screened at the Gene Siskel Film Center, UIC's Gallery 400, Wendy Cooper Gallery, and Heaven Gallery. Her performance video "I Love You for 24 Hours Every 10 Minutes" was included on Best of Heaven Gallery Video Compilation. Scherer was twice nominated for the Princess Grace Award.
Prior to MCC, Scherer worked at the Video Data Bank at the School of the Art Institute, which focuses on distributing early video art, feminist, LGBTQ+, and experimental videos and films. Scherer also worked at the Renaissance Society at the University of Chicago as their in-house videographer and archivist. She was the head videographer for the Columbia College Chicago Lectures in Photography Series, curated by Dawoud Bay. She was the lead videographer for the Lampo experimental music series from 2006 to 2015. She was the curator and founder of the experimental video and film program SineWaves. Scherer has also worked on documentary film productions for PBS, Kartemquin Films, and Show of Force, LLC.
Mary teaches Photography, Art Appreciation, and Introduction to Film.