Art Faculty - Stephy Miehle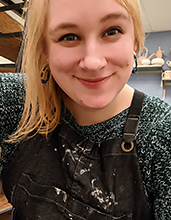 Stephy received her MS in Communications Design from the Pratt Institute in New York in 2012. She has instructed MCC's digital media and graphic design students since 2013 and contributed to the Mobile Design Development Program, the leadership team that determined curriculum structure, objectives, and assessment standards for UI, UX, and mobile (iOS/Android) courses as part of MCC's Mobile Development certificate.
Stephy was a freelance designer and web developer for 9 years before launching North X South with her husband in 2019. Together, they work worldwide with small businesses and non-profit organizations.
Beyond the screen, Stephy is passionate about blending art and technology. She is also an active ceramic artist and digital illustrator. Stephy teaches Portfolio Design at MCC.
Learn more on her personal website.