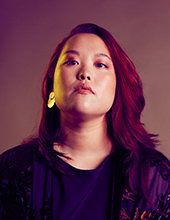 Kat Liu received an MFA in photography from Columbia College Chicago in 2018. Her prior bachelor's experience in photography and art comes from the University of Wisconsin – La Crosse (2013) and the School of the Art Institute of Chicago (2016). Her lens-based practice is fueled by topics surrounding self-identity as an Asian American woman in relation to food, body image, and fetishization. Her work has been published online and in print by Sad Asian Girls Club, Chrysanthemum: Voices of the Taiwanese Diaspora, and Sine Theta Magazine's Issue 8 "GOLD (金)." Her video work has most recently been exhibited at Hyde Park Art Center in the fifth iteration of Ground Floor (2018), a biennial exhibition that features Chicago's emerging artists.
She lives and works in Illinois as a photography teacher to teens, undergraduates, and adults. She also runs her commercial photography business, Pixelcharge Photos, with her husband in Chicago.
See more of Kat's work at her professional website.