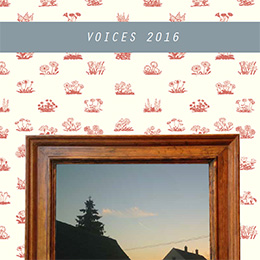 Voices 2016 AWARDS
Voices 2015 was awarded a 2016 Silver Crown Award by the Columbia Scholastic Press Association! Publications are judged on their excellence as shown by their design, photography, concept, coverage and writing.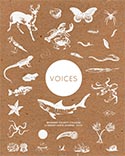 Download Voices 2015 pdf or see the Flash version!
Voices is published each Spring Semester to give you, the contributing students, a chance to see the publication in May before you graduate, transfer, or head off to become rich and famous artists, musicians, and writers!
Literary (fiction, creative non-fiction, drama, poetry)

Submissions: voices@mchenry.edu, Attention: Voices Literary Editors

Work must be submitted via e-mail to voices@mchenry.edu, and a completed submission form
Manuscripts must be submitted as .doc, .docx, or .rtf attachments
Up to three poems per person will be considered: No word limit for poetry
Up to two stories (fiction and creative non-fiction) per person will be considered: 3,000 words maximum per piece submitted
Up to two plays (stage and screen) per person will be considered: 15 page maximum per piece submitted
All prose manuscripts must be double-spaced
All manuscripts should be ready for publication (i.e. proofread and edited)

All work should be ready for publication (i.e. proofread and edited)

Art (photography, painting, drawing, ceramics, sculpture, jewelry, digital media, mixed media, video)

Submissions: A144, Attention: Voices (submission week and deadline December 1 through 4)

Securely attach a completed submission form with all print outs and CDs
Pick up a submission form in A144, B258A or A377
Drop off painting, drawing, ceramics, sculpture, jewelry and mixed media in A144 (Attention: Voices)
Submit a CD containing digital artwork in digital TIFF format at 360 dpi or higher accompanied by a print out
Submit a CD containing multimedia or digital animations as QuickTime files
Up to three pieces of artwork (across categories) per person will be considered
Include dimensions of physical artwork

All art submissions will be entered for a chance to receive the Dan Risch Memorial Scholarship for Visual Arts. The winners of this scholarship will be awarded $250 to be used for art and school supplies during the Spring semester

Performance (music, spoken word, short film, video)

Submissions: B258A, Attention: Voices

Securely attach a completed submission form with all CDs
Submit performance recordings on CD and drop off in person in B258A
Up to two songs per person or group will be considered
Up to two spoken word pieces per person or group will be considered: 10 minute maximum per spoken word piece submitted
Up to two short films per person or group will be considered: 30 minutes maximum per film submitted

Films and spoken word recordings must be ready for publication (i.e. edited and submitted including credits)
Direct general questions to voices@mchenry.edu or (815) 455-8552