Testing Center
The MCC Testing Center proctors tests for: GED, self-paced online courses (SPOCs), make-up exams, placements, proficiency, CLEP, correspondence and more.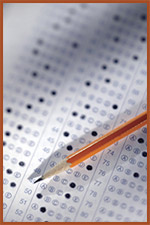 Review specific instructions by exam type ⇒
Except for make-ups, placements, and SPOCs, many of our other tests require appointments, so please be sure to call ahead at (815) 455-8984.
Note: We require photo identification for all exams. Exams need to be completed five minutes prior to the Center's closing time.
Important information you should know before using the Testing Center:
You need to apply to MCC, pay the required non-refundable $15 application fee and allow two business days for your student ID number to be assigned before you can take a placement exam at MCC.
All students using the Testing Center must comply with the Testing Center Regulations:
All students must provide a current picture ID
Testing fees must be paid in advance at Registration in A258
No test will be started in the last half hour prior to closing time or if an instructor's minimum allowable time cannot be honored
CLEP, Proficiency, CNA, GED and some other tests require an appointment
Telecourse tests require verification of student enrollment
Allow two hours for an English placement exam and one and a half hours for a math placement exam; voluntary retakes require a $5 fee
Purses and all electronic devices must be placed on front table – phones must be turned off
No hats, food or drinks are allowed in the testing rooms
If your test requires a calculator, we will provide one for you
No talking is allowed inside the testing rooms
Students must comply with MCC's Student Code of Conduct
Children are not allowed in the Testing Center
The Testing Center is not responsible for personal belongings
In accordance with FERPA regulations, please do not accompany, or inquire about, students taking tests